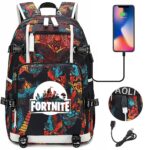 Fortnite waterproof backpack with USB plug
Fortnite waterproof backpack with USB plug
69,90 $
In stock
With its USB socket for phones or other devices, this Fortnite backpack is really top-notch, but above all waterproof, so your child can connect his phone or any other device via USB. Very practical with all the pockets, zip and side ties.
This waterproof backpack with USB plug is perfect for Fortnite fans! It\'s made from high-quality polyester, making it extremely hard-wearing and easy to clean. The adjustable strap lets you adjust it to your size, while the zipped front pocket lets you keep your belongings organized.
What\'s more, it\'s equipped with a USB socket, so you can recharge your phone or tablet with ease.