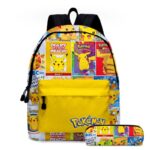 Pokémon Go kids backpack in yellow with case
Pokémon Go kids backpack in yellow with case
49,90 $
In stock
If your child is a big Pokémon fan, then he\'ll love his new Pokémon Go backpack for back-to-school! For everyday use, in the classroom or for weekend outings, this large-capacity bag comes with a matching pencil case.
Featuring a large storage capacity and several compartments, your child will be able to neatly stow away all his belongings.
This backpack is perfect for little Pokémon fans! It\'s made from yellow fabric with red and blue details, and features the game\'s logo. It features a large main pocket and a zipped front pocket. The matching pencil case is perfect for storing all the little supplies needed for school or extracurricular activities.