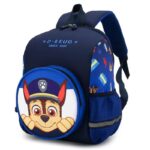 Pat\'Patrouille schoolbag for children
Pat\'Patrouille schoolbag for children
39,90 $
Is your child a fan of the famous Pat\'Patrouille cartoon? If so, why not treat them to this magnificent schoolbag representing the bravest doggies in history!
With this Pat\'Patrouille schoolbag, your child will be looking forward to the first day of school to inaugurate it and show it off to his classmates.
The Pat\'Patrouille schoolbag is ideal for kindergarten and primary school children. It\'s made from high-quality polyester and features a breathable mesh inner lining. The Pat\'Patrouille schoolbag features adjustable shoulder straps and a padded back for optimum comfort. It also has a zipped front pocket for storing small accessories.
Additional information
Sexe

:

No selection

Unisexe

Matériau

:

No selection

Nylon