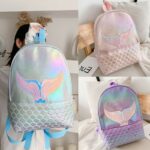 Mermaid pattern backpack for girls
Mermaid pattern backpack for girls
34,90 $
Looking for the perfect backpack for your little girl? Then our mermaid backpack is the one for her! A cute little backpack decorated with sequins and scales just like real mermaid skin!
Ideal for school, sports or vacations, your little princess will love it and can\'t wait to use it on back-to-school day!
This cute, colorful backpack is perfect for little girls who love mermaids! The design is unique and eye-catching, and the quality is excellent. The shoulder straps are adjustable to fit all sizes, and there\'s a front zipped pocket for storing small items. The bag is made from hard-wearing, washable fabric, making it very practical for school or travel.
Additional information
Matériau Principal

:

No selection

PU

Matériel Doublure

:

No selection

Polyester