Having a small nursery can be seen as an advantage. Although large spaces offer more scope for decoration, they can also be difficult to fill. You won't have this problem with a smaller room. In fact, they're much warmer and more human.
By cleverly arranging furniture and decorative accessories, you can create a place that's a pleasure to live in. All it takes is a few small adjustments. Find out more here.
Play with wall colors
To give a space a larger look, choose the paint you apply to the walls with care. In a small nursery, pastel themes are recommended. This trick will brighten up the room, even if it doesn't get much exposure. Trendy colors for this purpose include:
Pastel blue
Pastel pink
Off-white
Beige
Pastel yellow
Pastel green
However, if these colors seem a little too bland, there are other, more modern alternatives. The color terracotta, for example, is very much in vogue. It's all-purpose and brings originality to your interior. If your little one's room is well lit, you can try a combination of grey and white. The softness of ochre will brighten up the room.
Our next tip is to create paint zones in the room. This will delimit the reading corner, the sleeping area, the library, the play area or the office. The result is an enlarged effect. If you're not good at drawing patterns, opt for pretty wallpaper. Animal, safari and nature themes are very popular with the little ones, while helping to create a zen-like environment.
Optimize storage
Storage is undoubtedly the biggest challenge in designing a small children's room. To optimize this space, shelving and storage units are essential. To hide your little ones' various messes, we recommend small wooden or rattan pedestals. With these, your little ones' belongings are cleverly organized. They'll have no trouble finding their way around, and so will you.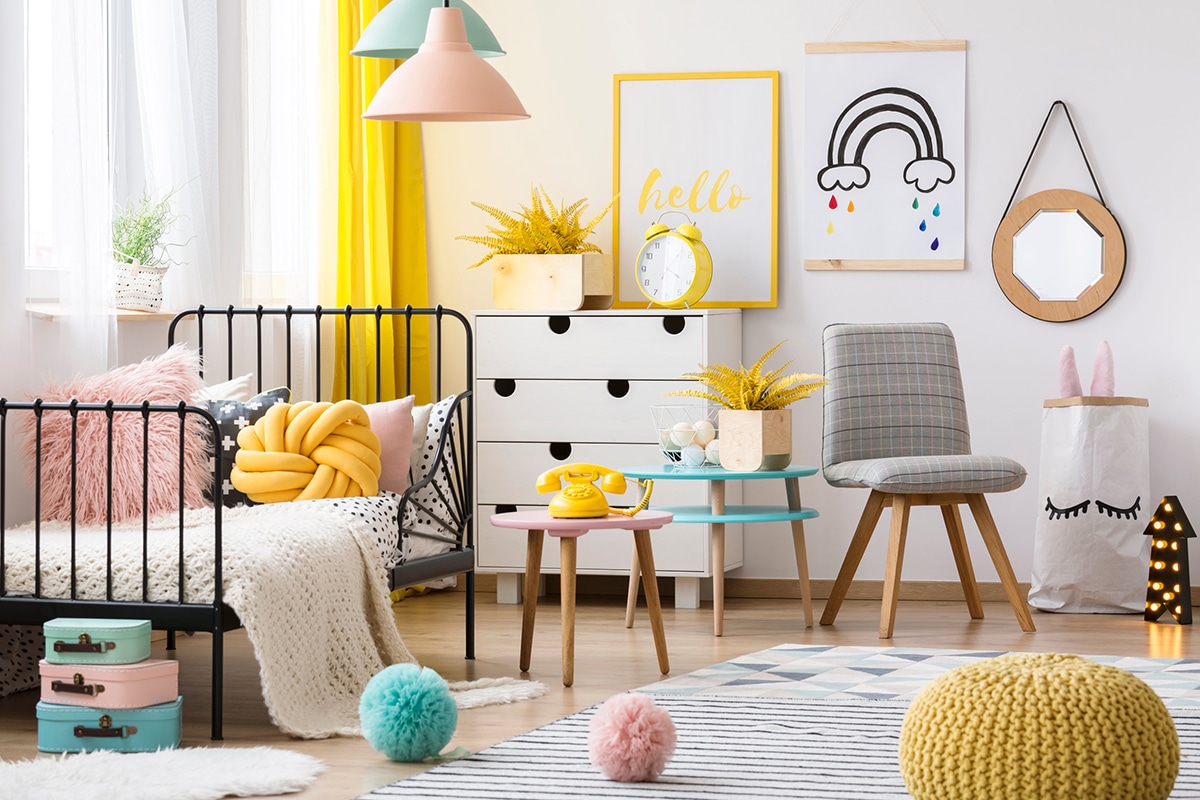 Use walls as much as possible to save floor space. The industrial style is very well suited to today's children 's bedrooms. Create shelves with a mix of metal and wood, for example. You can also set up a dressing room this way.
Unused sheets, comforters and cushions can be stored in rattan baskets. This accessory can also be used to store toys and other items such as books and clothes. Suspended models in particular are space-saving. What's more, colors can be varied to suit the theme of the room.
To store your children's belongings intelligently, we recommend the storage bench. This piece of furniture serves not only as a drawer, but also as a seat. Add a few cushions and a plaid and you've got a real cocooning corner.
Make the most of windowsills
Taking advantage of windowsills is one of the best ways to optimize a small space. There are many ways to use them in a child's bedroom. They can also be used as bookcases. With this alternative, you won't have to create a floor shelf for your little ones' books.
You also have the choice of using this space to accommodate vase plants or plastic flower pots. This natural touch will add a relaxing atmosphere to the space.
Window sills can also be used to display decorative items such as lanterns, cuddly toys, watches, picture frames and paintings. So, despite the lack of space, the room remains stylish.
If your little one's room has a large window, you can take advantage of it to create a bench seat. This will provide additional seating in the room. Then make it comfortable by adding a few cushions. In the same vein, you can also create a small desk. So you don't need another piece of furniture.
The windowsill can also be used as a headboard. Install your boy's or girl's alarm clock or nightlight there. This avoids the need to invest in a bedside table, which will only overload the room.
Optimize sleeping space
In a small children's bedroom, the bed is the piece of furniture that takes up the most space. But we have a few tips on how to make it take up less space. Here are a few alternatives we recommend:
The mezzanine bed: not only does this solution keep the kids entertained by creating a cabana-style space, it also saves floor space. However, this option is only feasible if you have a good ceiling height. Underneath this type of furniture, you can create different types ofspace, such as an office, a play area, a library or a dressing room.
The loft bed: this alternative offers the samepossibilitiesas the mezzanine bed. However, it works well in a room with a slightly low ceiling. This type of furniture is not necessarily very high. If you have two children, this option lets you hide a second bed under the first. This saves space when the little ones aren't sleeping. With a high bed, you can create storage spaceunderneath the box spring. These can be open or closed shelves or drawers.
The bunk bed: this is a classic when you put several children in a small bedroom. You can have up to three tiers, depending on your needs and the height of your ceiling. Several models are available on the market today. The most practical have stairs that double as drawers. Some have shelves between the two beds. This gives you extra storage spacefor your little ones' belongings.
Lighting in a small nursery
Lighting a child's bedroom is no mean feat. Forget large, free-standing lanterns. They'll just clutter up the space and hinder your little ones' movements. Also avoid large, eye-catching chandeliers. They'll make the room look cluttered, especially if you have a low ceiling.
In a small space, we recommend ceiling lights instead. They are discreet and have the advantage of distributing light evenly throughout the room. There are many different models on the market, and you can choose from a range of child-friendly designs.
For accent lighting, opt for small bedside lamps. There are several types available. Some can be placed on a stand. If your child has a bedside table, you can use this solution. If this isn't possible, turn to wall-mounted nightlights. Install them on either side of the bed, so that your little one can easily reach the switches.
You can also install wall lights under your little one's mezzanine floor to illuminate his desk. Inlaid LED lights on the bookshelves will add a beautiful decorative touch to the space.
Garlands of lights to hang on the wall will bring a certain softness to the atmosphere of the room. What's more, you can write your child' s initials on this type of product. It's the perfect way to add a touch of personalization.
Footstools: a practical decorative touch
You can never have too much seating, even in a small nursery, especially if your child is still a baby. You'll need to sit down to rock him, give him his bottle or read him a story. With this in mind, investing in a pouffe is an excellent alternative.
There are several categories on the market today. They include
Sofa pouf: Reasonably sized, it can even accommodate an adult. This type of item is recommended for the comfort it provides. Your child caneven sleep on it. Such a product easily finds its place in your little one's reading corner.
Animal-shaped footstools: These models are appreciated for their unusual design. They're practical and add to the room's decor.
The storage pouffe: Children can sit on these and store their toys and other belongings, such as books, clothes and so on.
The donkey or pony pouffe: These models serve as a seat and a toy for children. They'll enjoy riding on them while playing cowboys or Indians. They're a big hit with boys and girls alike. What's more, you won't need to invest in a rocking horse that takes up too much space.
Different decorative accessories
As you can see, in a children's bedroom, it's all about the storage system. In order to have enough floorspace, aerial decorations are recommended. Here are a few accessories you might find useful:
Wall hooks: These allow your children to hang up their hats, scarves, coats or umbrellas. In particular, they'll help keep your dressing room free of clutter.
Hanging baskets: These can be used to hold small items such as jewelry, combs, perfume bottles and other things your little ones want to keep handy.
Wall-mounted mirror: If you don't have a dressing table, you can install a wall-mounted mirror in your little one's room. He'll be able to look at himself in the mirror before leaving for school.
A dream-catcher: If you like the bohemian style, hanging a dream-catcher over your child' s bed will make a lovely decoration. It's also a stylish, space-saving wall hanging.
The teepee: If your child wants to have a teepee in his or her bedroom, but lack ofspace prevents this, you can opt for a headboard or hanging te epee. As these models hang over your little one's bed, they don't take up much room in the room. There's also a folding teepee that your little one can unfold and put away as he pleases.
Alarm clock: This practical accessory ensures that your child always arrives at school on time. Generally speaking, these items are small enough to fit easily into the bedroom. In terms of choice, the variations are varied and adapted to different decorating styles.
Designing a small nursery: our summary
A small baby or child 's room is well designed when it's functional, beautiful to look at and brings well-being. To achieve this, you need to prioritize practical furnishings to save as much space as possible. Opting for a two-in-one piece of furniture will help you avoid clutter. A chair, for example, can double as storage. You can also opt for a suspended bed to benefit from more floor space.
Next, make the most of the room 's walls without overloading them. Hang shelves of different shapes (square, rectangle, triangle) to add an original decorative touch.
Every nook and cranny of the room can be fitted out. Leave no stone unturned. You can install corner shelves for extra storage without filling the space. Window sills can be used to store decorative objects or to create a desk or bookcase. If you have the space, find out how to create a children's play room.
Play with wall colors to create optical illusions. With zones of paint, you can delimit the different parts of the room and make it a space in its own right. Go for light colors to create a beautiful light effect. You can do the same throughout the house.
Did our ideas help you? How have you furnished your child' s bedroom? We'd love to hear from you in the comments section.