Having enjoyed worldwide success since 2013, the Pat'Patrouille show is attracting the interest of children. The puppies, heroes of the rescue, have won the hearts of little ones under the age of six. You may have heard this word (Pat'Patrouille) or a few slogans from the series in the mouths of your little ones.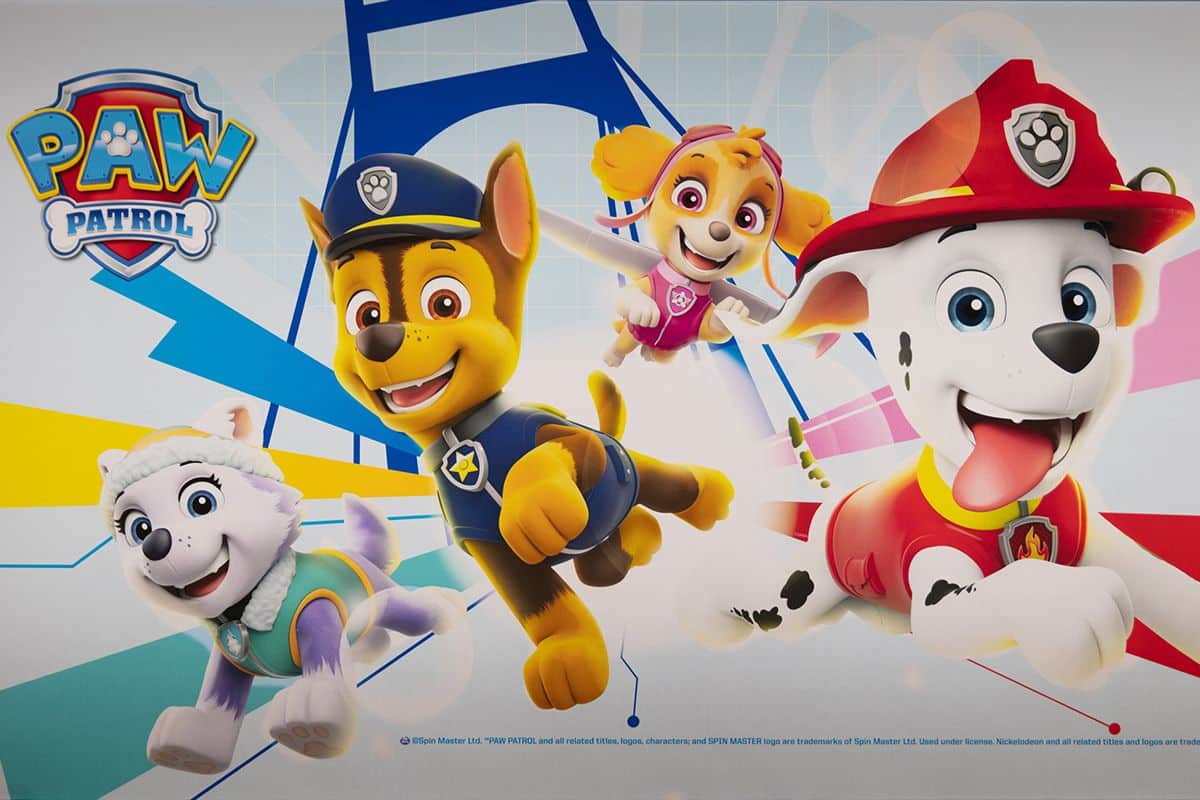 What's Patrol?
Being up to date with Pat'Patrouille will help you better understand some of your children's behavior. Even though the show has been out for just under a decade, it's not too late to get in on the trend. So what do you need to know about this spectacular cartoon?
Who are the Patrol?
Pat'Patrouille is a small team made up of a ten-year-old boy named Ryder and seven puppies. Each dog has his own talents. Knowing each one of them will come in handy when your child asks you questions. To make it easier for little ones to recognize them, the author has assigned a different task to each puppy, as well as a color for each one. This helps children with their visual memory, but also to remember names more easily.
Marcus is a Dalmatian with two functions, including firefighter and paramedic. He wears red, in reference to flames.
The English bulldog's name is Ruben and he's a construction specialist. His favorite color is yellow.
Then there's Rocky, a cross-breed dog who specializes in recycling. His eco-friendly side goes very well with the color green.
Stella, the English cocker spaniel, can fly helicopters and drones. Being a female, her color is pink.
In Chase 's case, he's a German Shepherd with the job of both policeman and spy. His color is blue.
The Labrador named Zuma is a rescuer. To stand out, he has the orange color, usually worn by rescuers.
And Tracker the chiwawa is a jeep explorer. Khaki is for him, as this color helps him blend into the landscape during his dangerous missions.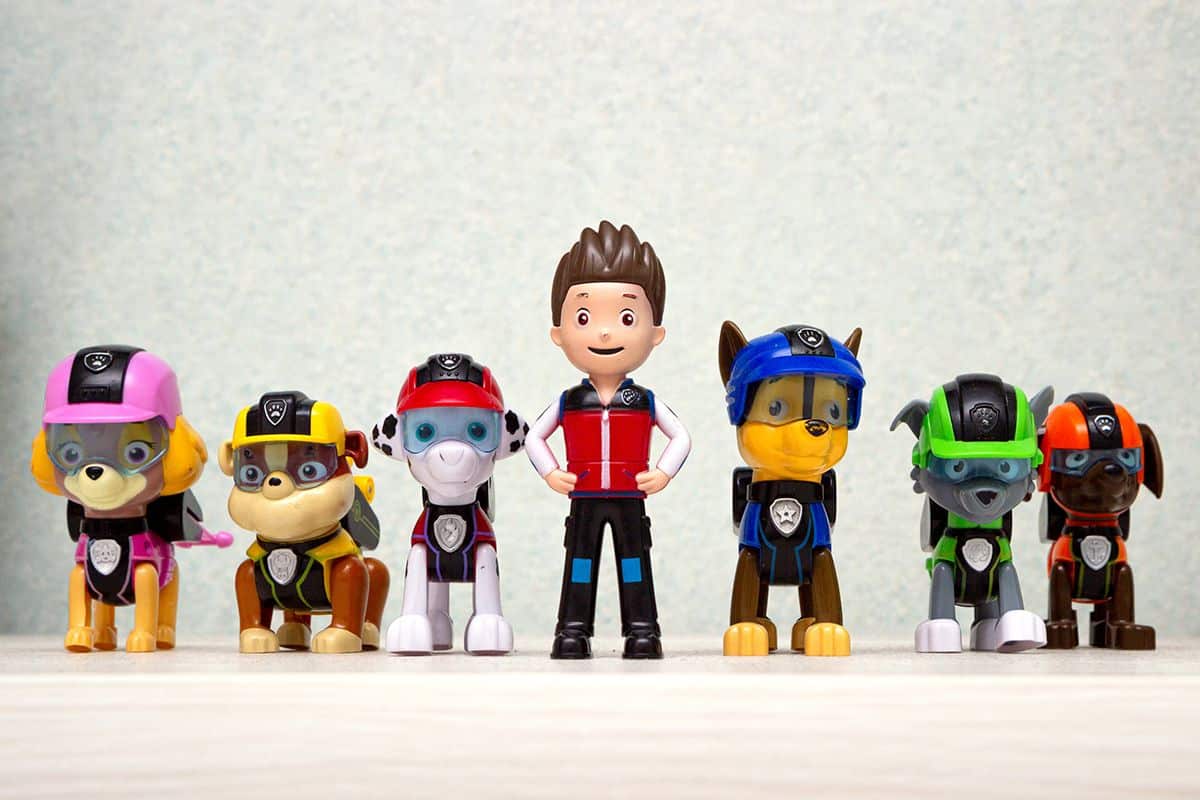 How does the story unfold?
Each episode begins in much the same way. Ryder, the young boy, receives a report of someone in danger. The report is made by telephone, or simply by someone who witnessed the incident. Sometimes, however, he's actually at the scene of the accident.
To help this person, he calls in his team, the Pat'Patrouille. Once each dog has been assigned a mission, the story begins. Everyone tries their best to help the person in need.
Secondary characters
Never neglect secondary characters, even if they seem insignificant. Children 's powers of observation are such that they don't miss a beat . Chances are you'll hear one of your little ones asking questions about one of these extras. So, who are they?
Farmer Yumilooks after her farm, planting all kinds of fruit and vegetables. Her husband Al also helps her with this task.
Mr. Hollinger is the mayor of the neighboring town. He's always accompanied by a gang of cats, usually playing tricks on Grande-Vallée. Fortunately, the Pat'Patrouille is there to keep an eye on things.
Jake owns a ski resort in the mountains. His companion is the blue-eyed husky, Everest.
Mrs. Goodway is the mayor of Grande-Vallée. Her role in the series is usually to call out the Pat'Patrol, to keep order in the town.
Finally, there's Captain Turbot. This biologist likes to spend most of his time on his boat.
Why do kids love Pat'Patrouille?
There's a good reason why the series is especially targeted at young audiences: it's an educational cartoon. The episodes teach your children life lessons. The rescues, for example, teach them to be altruistic and help anyone in need. But that's not all this phenomenon is known for. There are other reasons why little ones are so interested.
A happy ending to every episode
Children love happy endings, because their young age means they're not yet mentally tough enough for suspense stories with sad endings. So it's great fun for them to see the story work out.
Fun and educational games
To further attract the attention of young audiences, the production didn't stop at animation. In fact, there are a number of games based on the same theme.
Coloring
Paw Patrol Pat games include coloring pages. They allow children to work on their memory, but also to learn to color in the lines. This is one of the many creative leisure activities offered as a spin-off from the series.
Board games
Board games are also available to enable several children to play together. This kind of entertainment is ideal for a birthday party, as your little one can play with all his guests.
Puzzles
Puzzles are another derivative game. Their dimensions are adapted to enable your child to hold each element without difficulty. Obviously, the level is adjusted to the intellectual skills of children under six. This allows them to work on their memory and observation skills.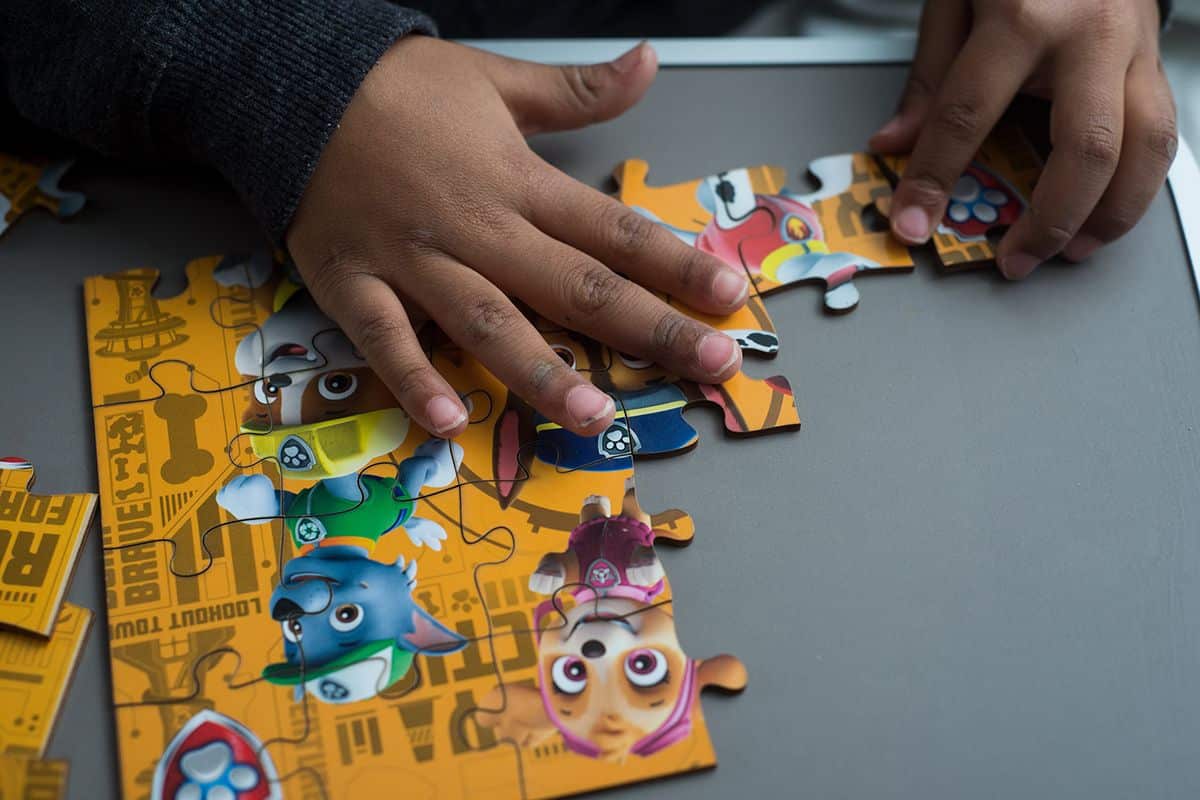 Stickers
These can be used individually or in sets. In the latter case, your little one can build up a collection. This will also work on his perseverance and desire to preserve his belongings.
Video games
Video games are also available on the market. This contributes greatly to Pat'Patrouille's success.
Of course, it'simportant to know at what age a child should watch TV, and at what age he or she is allowed to touch a joystick or smartphone.
Paw Patrol books
The stories in the animated versions are numerous and enthralling for children. But to further broaden the horizons of this little team, books have also been published. All the adventures of the rescue pups are recounted in the pages of the books. These stories can help you put your little one to sleep at night, or simply calm him down.
Some issues feature coloring pages, while others include stickers. So you can kill three birds with one stone, if you feel the urge to please your little one.
Toys
Of course, it takes toys like the Patrol Control Tower to elevate Pat'Pat rol's reputation to the highest level. This gives parents plenty of opportunities to delight their children. Here's a list of Patrouille toys to offer your little ones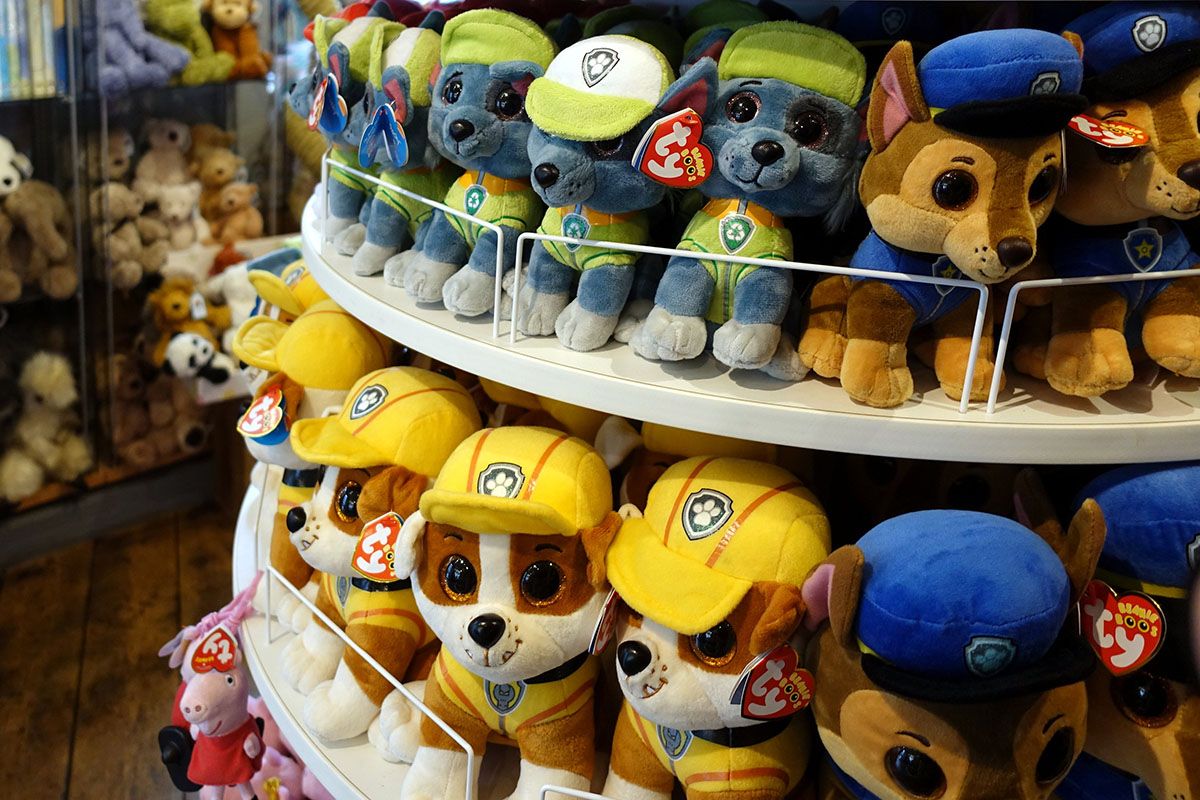 Legos
Legos are one of the most popular creative hobbies on offer. Your little one can build a house, a vehicle or a garage. His imagination will be exploited to the full with these toys. He can even reproduce cartoon scenarios or create new ones as he plays.
An interactive watch
To help your child remember the adventures of the rescue puppies, but above all to live his own adventure, give him a Patrol Watch. It features recordings in which the puppies' voices can be heard. The prospect of hearing the puppies' favourite lines and slogans will brighten your little one's day.
Action figures
All the characters, especially the puppies, have their own figurines. If your child has a favorite, you can give him or her a miniature. One of the advantages of this cartoon is that you don't have to choose between genders. So girls and boys alike can have their own figures to play with.
The stroller
If your little one is less than three years old, but already up to speed with Pat'Patrouille, you can give him a treat by putting him in a Pat'Patrouille stroller on your walks together. Of course, you can also find models for dolls. Your little girl will be delighted too.
In-line roller skates
This toy is particularly suitable for children aged five and over. You need good balance to use them without falling. The in-line skates will enable your little one to go and perform a rescue, just like in the cartoon.
Various accessories
Having contributed to the success of Pat'Patrouille, accessories are in high demand in stores. Our heroes ' goodies are available all over the world, delighting thousands ofchildren. A variety of items are available on the market, for everyone to enjoy.
Mugs
To get the day off to a good start, nothing beats a good breakfast. To encourage your little rascal to eat properly in the morning, give him a Pat'Patrouille mug. He'll be able to drink his milk in peace and enjoy it. It'll also help calm him down at the table.
A floor mat
Encourage your child to play a little more in his room with a Pat'Patrouille floor mat. There are different models, with different shapes and characters to suit all tastes. This kind of item also adds a more cheerful touch to the child's room, which is why parents are so keen to buy them.
A luminous alarm clock
To further enhance the beauty and practicality of your child's bedroom, you can also install an alarm clock. This accessory will help your little one wake up on time every morning to avoid being late for school. The luminous side will stimulate your little one, thanks to its playfulness.
A backpack
You can also buy a Paw Patrol pat backpack. Using this kind of accessory encourages your child to go to school, as youngsters like to show off their stuff to their friends. This also contributes to the success of the series. Different models are also available to meet the requirements and preferences of the young audience.
A lunch set
There's nothing cooler for a child than to show up at school with accessories from their favorite cartoon. As a special treat, you can let them take a Patrol lunch set with them to the school canteen.
Signs that your child is a Patrol fan
If your child is under the age of six, there's a good chance he or she will be familiar with the Patrol show. If you're still not entirely sure whether your child likes the show, there are a number of signs you can look for.
He asks for Patrol accessories
If a child is interested in a particular show, it's normal to see them asking for an item featuring their favorite character. Children usually ask for a schoolbag or a toy.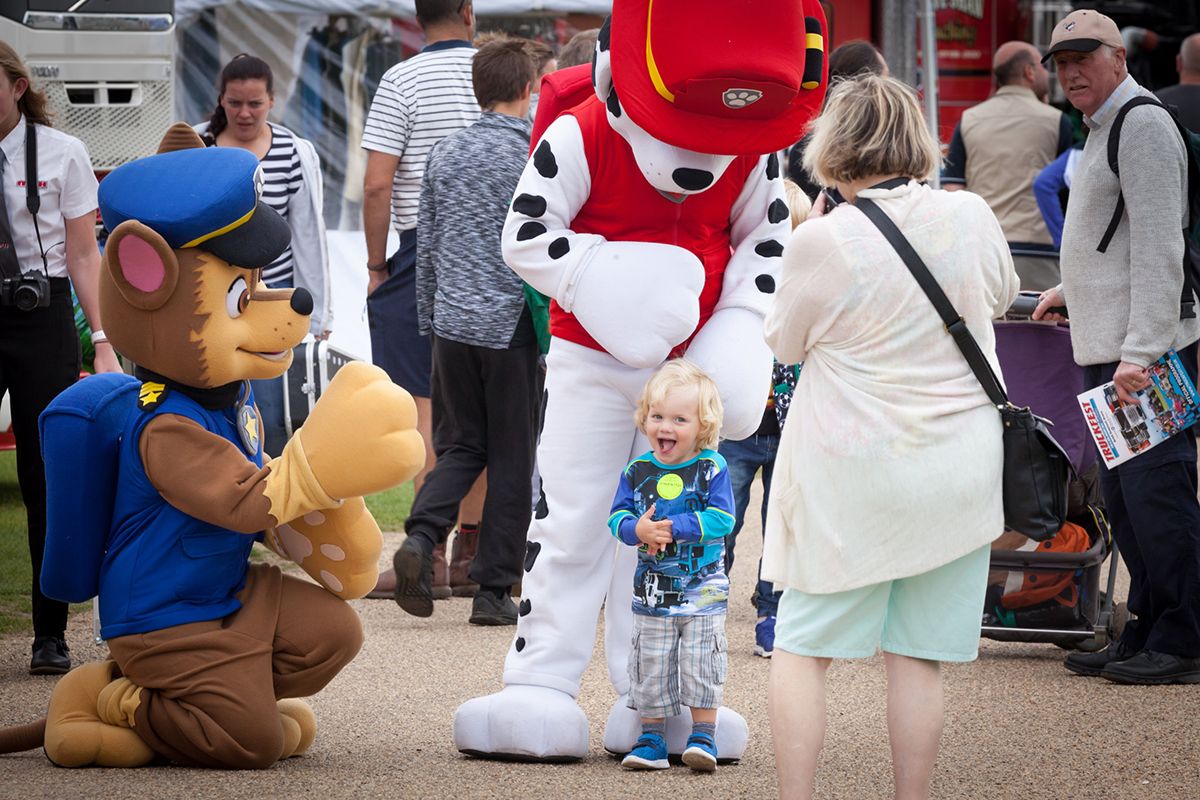 You know a few slogans
That's right! We're talking about you. You may not have noticed, but your child regularly watches the cartoon. Without realizing it, you've memorized some of the puppies' slogans, such as "Ruben always puts on the rubber" or "Chase is on it!". Hearing the same phrases over and over again, it's not surprising that you know a few passages.
You hum the song
" It's the Pip pup boogie ", a small musical part of the phenomenon loops around in your head. Unintentionally, you'll be humming this song at any time of day. It consists of a single phrase, which is why it's so sticky.
Pat" Patrol: our conclusion
Overall, the success of this cartoon lies not only in its stories. The various goodies and derivative products have made Patrol an international phenomenon, conquering the hearts of young audiences. Creative leisure activities stimulate children's intelligence, which is why parents are so keen to buy them. Of course, not all adults with children feel the same way. If you have a completely different opinion on the subject, we invite you to share it with us in the comments.