Our education is supposed to prepare us for adult life. That doesn't stop some people from finding their true calling at 25. However, as parents, it's our job to give our children as much intellectual baggage as possible, and to forge their personalities so that they can bounce back from any setbacks. This is what Maria Montessori 's pedagogy is all about. Some embrace it, others remain skeptical.
In these few lines, we'll explain the basics of this method of teaching and educating, the advantages to be gained and the disadvantages that make those interested hesitate.
Maria Montessori: a woman who knew what she was doing
From a rational point of view, it's more reassuring for parents to know that the originator of Montessori pedagogy is someone who knows her stuff and is an expert in the field. This gives her more credibility.
Difficult beginnings, but unfailing determination
Who was Maria Montessori? Born in Italy in 1870, the only child of a former soldier and an accountant, she grew up with an aptitude for teaching. However, she abandoned this brilliant career for science, working in universities where girls her age were rare. At the time, society was still very sexist and didn't believe that a woman could break into scientific studies. Maria received little support from her family. One can also imagine the discomfort of going into a classroom every day, where men like to impose their point of view and pour out taunts to make women feel diminished and incapable. But this did not prevent her from going on to medical school, where she submitted a thesis in psychiatry in 1892.
Four years later, and despite her trials and tribulations, Maria Montessori obtained her medical degree at just 26 years of age. Representing Italy, she made her voice heard at the International Women's Congress in Germany, calling for equal pay for men and women. As you can see, this extraordinary woman had laudable convictions.
Maria Montessori found her way
After graduating from medical school, Maria Montessori joined the Santo Spirito hospital in Rome, where she worked with mentally handicapped children on a daily basis. It was there that she saw herself invested with a mission: to enable such victims of life to gain independence and find their place in society like everyone else.
Maria opened a speech therapy school in the same town in 1899. She continued her research and studies, realizing that instead of pumping children full of painkillers and devising medical "instruments of torture" to try and cure them, a more appropriate educational method for these diminished individuals had to be established. It was here that one of the very first Montessori instruments saw the light of day: rough letters. Initial trials showed encouraging results.
Montessori education worldwide
From then on, our scientist was called upon by a number of prominent figures to take care of homeless children in Rome. She didn't hesitate to build a dedicated home, which she called Casa dei bambini. All the furniture, equipment and atmosphere are based on Montessori pedagogy. The staff are also trained along the same lines. Its growing success extends beyond Italy's borders, even reaching the United States.
In 1929, the International Montessori Association was founded. In 1939, Maria and her son were invited to train teachers in India, but were forced to live there for over a year because of the war. It was there that she met Gandhi, an opportunity to add further strings to her Montessori bow for elementary school pupils: Cosmic Montessori Education.
This admirable woman died in 1952 at the age of 81 in the Netherlands, leaving her precious legacy to her son Mario, then to her daughter Rénilde.
As you can see, Maria Montessori 's entire life was dedicated to the best of all children. It's even written on her tombstone.
The principles of Montessori education
Montessori pedagogy is aimed at children from 12 months to adolescence. The activities and teaching materials vary according to age. You won't get the same thing for 3-year-olds and 7-year-olds, for example, even though they may be in the same class.
Montessori teacher training
From the very start of her project, it was clear that Maria Montessori insisted that teachers should always encourage observation and never judge children, even if they showed serious mental deficiencies.
Roughly speaking, Montessori pedagogy accustoms children from an early age to independence in everything they do, and even in their learning. They then progress at their own pace, discovering for themselves the tips and tricks that work for them in practical life , and are no longer forced to follow the speed imposed by their teacher.
Lessons and activities
In Montessori pedagogy, lessons are presented in three stages. The aim is for children to learn from their mistakes and correct themselves without pressure. There's no question of teaching lessons and activities to a class of fifty pupils. The working method favors individuality.
In this way, young people don't have to endure the mockery of their peers if they have trouble keeping up, or even the judgment of their peers. In the first stage, the teacher proposes the lesson to the pupils to gauge their interest. The children choose the activities they want to take part in, and stimulate their curiosity. If they don't feel like it, don't force them, as this would be counter-productive. Depending on the situation, they can move on to the second phase on the same day or at another time.
The first phase
The teacher shows the concept to the child using materials that he or she is used to handling, to facilitate learning. This is particularly suitable for children under the age of 7. It is not suitable for explaining history or mathematics, for example.
The terms used in lessons should be as clear and succinct as possible, so as not to confuse the pupil. They will associate each object and each gesture with a precise word to help them find their way in their memory and quickly retain new information. The educator will repeat the same names to anchor the idea in the little ones' heads as they manipulate the related objects. This is how the concepts of dimensions, comparison, distance, numbers and so on are introduced.
The second stage
In the second phase, we check to see whether the little ones have understood and retained the explanations given in the first phase.
In this phase, the educator uses movements and displacements. For example, if the child has a piece of green wooden triangle. The teacher will ask him to place it on the shelf, chair or table. At the same time, the little one will learn politeness if you introduce "please" and "thank you" into your lesson. This shows just how complete and effective the Montessori method is.
Effective, because with this method of teaching, if the child still makes a mistake after several repeated presentations, it means that his brain has integrated far too much information. The lesson then has to be stopped and repeated at the point where it was wrong, so that the toddler can breathe and learn at his own pace. The teacher shouldn't even correct the child, as pointing out the mistakes would discourage him or her and perhaps lead to a loss of self-confidence.
The third stage
The third stage is similar to an exam. In the first stage, the child was asked to point out the objects. Here, the teacher will ask the child about the terms he or she learned at the very beginning.
Montessori pedagogy: it's also about human values
As well as teaching physical and mathematical skills, Montessoriteaching teaches children to show respect for others and to help each other. So it's out of the question to leave their environment messy and disorganized after they've finished. Everything must be put in its place on the shelf or in the dedicated corner. It's also forbidden to interrupt another classmate's lesson.
Montessori materials
Unlike traditional schools , Montessori materials are not limited to books and tablets. It's a whole universe, from furniture to learning accessories. For example, socks are used to inculcate the notion of color, similarity and difference in young children. By forming pairs, they understand more quickly. Socks with letters/numbers can be selected to spice things up.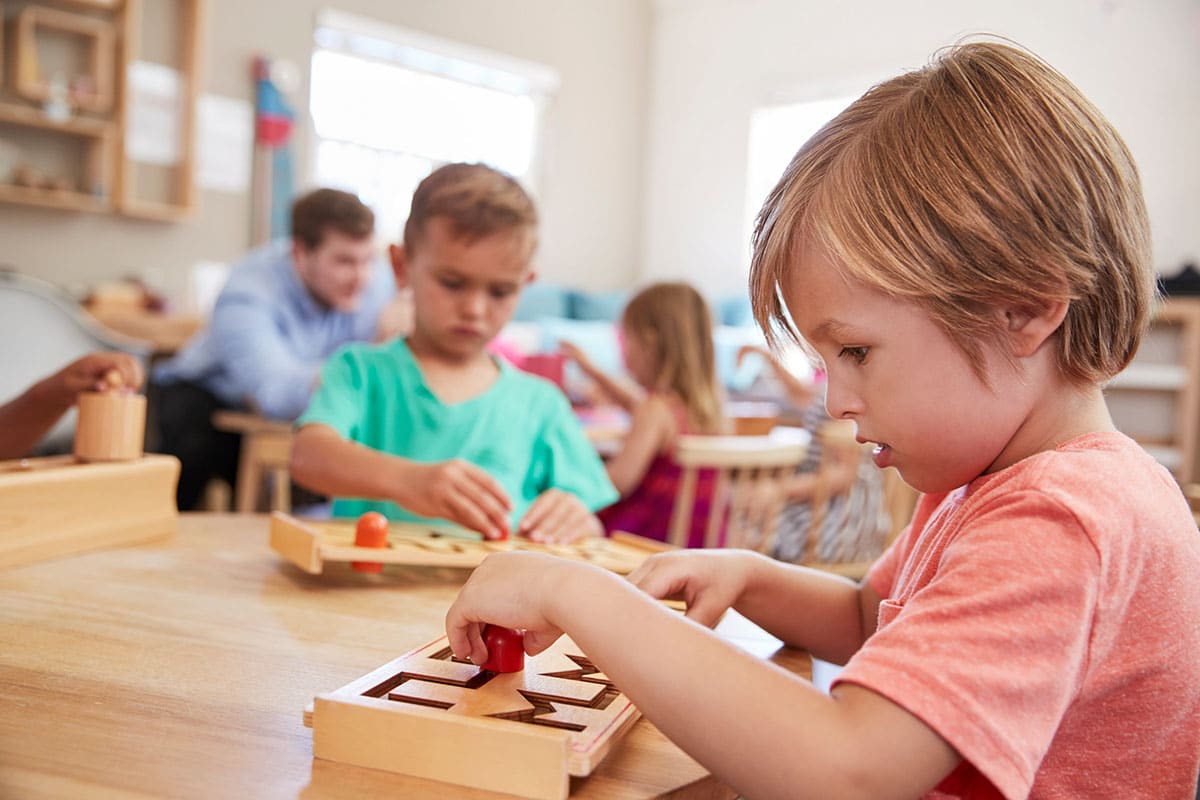 On a shelf or table, for example, objects should always be arranged and lined up from left to right and top to bottom, to prepare children 's brains and movements for reading and writing. Countries that write from right to left will impose this direction in their Montessori schools.
The advantages of Montessori pedagogy
By combining manipulation with clear, precise explanations and a serene environment conducive to learning, this pedagogy enables children to concentrate better and work more quickly on their coordination. They learn a great deal at the same time, which tends to speed up their overall education. Children learn to keep the house clean and tidy, but also to read, write and count at the same time.
At the same time, they gain self-confidence, and strive to become beautiful people who care about, help and respect others.
Montessori pedagogy rejects any idea of reward. The desire to learn and the stimulation of the brain must be the sole driving forces behind children' s desire to discover an activity and to grow intellectually and physically.
Homework doesn't exist in this approach either. Maria Montessori believes that it is counterproductive to limit learning to reading, and to give children a list of information to learn by heart without any practice to back it up. Children then spend more time with their families, taking part in constructive activities such as shopping or cleaning up around the house.
Parents can apply the Montessori concepts they like under their own roof to help their children who are struggling at school. This method of teaching brings out the personality in every boy and girl. Most of them are naturally hyperactive, and need to be constantly on the move. By letting them give free rein to their nature, while respecting others of course, they'll be easier to live with.
Montessori pedagogy: the other side of the coin
Many parents are tempted to say, as they become more familiar with Montessori pedagogy, that it's tantamount to treating children as young adults from an early age. This may be fine for children with average and superior intelligence, who just by touching an object magically make it their own two seconds later. But for others with limited grey matter, or even grey matter disorders, is this really the right method ? Going it alone doesn't necessarily work for everyone.
Another drawback is the individual nature of the learning process and the resources available in each school. Each teacher is dedicated to one student at a time. This requires a lot of time, and a larger number of specialized educators. As a result, a larger budget has to be concentrated on materials and everything else than with the traditional method , and this is reflected in the parents' purse.
It's fair to say that the cocoon that Montessori pedagogy builds around the child from infancy to adolescence is well suited to autistic children. But for the rest, it can fail them as they grow older. When they're younger, their world is so orderly, autonomous and calm. Everything revolves around them, everyone respects each other, everyone moves at their own pace, whereas outside, in adult life , this is far from being the case. You have to adapt to the world, not the other way around, and emotionally, this can create huge contrasts that can destabilize or distress your child.
Montessori pedagogy: for or against?
In conclusion, Montessori learning predominates over traditional schooling on many levels. Many Montessori schools have since sprung up all over France. There are around a hundred in each region. However, this approach is not yet unanimously accepted by parents, due to its cost and some of its basic principles. To send your child to a Montessori school would cost between 190 and 350 euros per month. Has this convinced you to give Montessori a try? Do you have any questions? Tell us in the comments.