From an early age, children can become passionate about sport. Good physical activity is not only good for their health, but also for their intellect. Among the first disciplines they can be introduced to are skates and roller shoes. Each child has his or her own preferences between the two. It's important to know your child's opinion on the subject before making a purchase. Here are a few tips to help you choose. In this article, we also give you tips on how to learn to roll properly.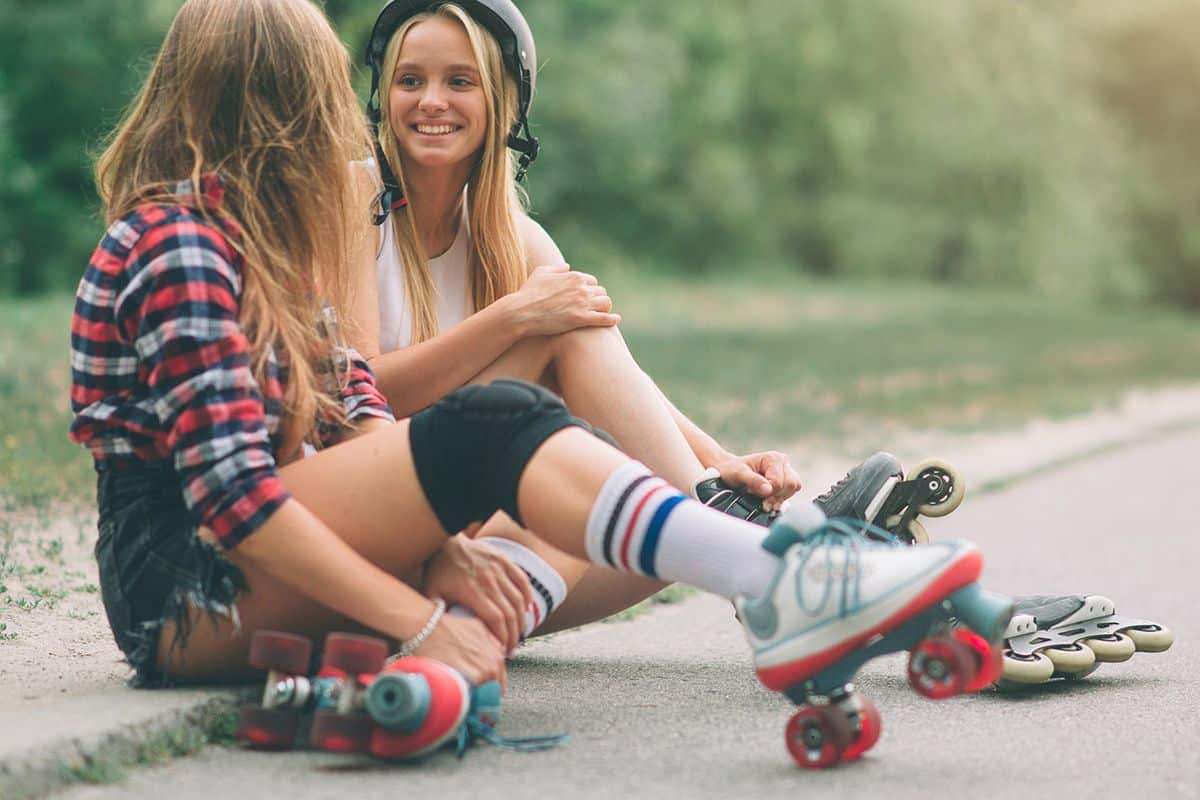 Roller shoes or roller skates?
Similar but different, roller shoes and roller skates each have their own properties. Why do children prefer these accessories?
What are the differences?
Roller skates are used exclusively for leisure. They can be worn in a special room for fun, or used for a bit of outdoor sport.
In the case of roller shoes, their design resembles that of simple shoes, but with wheels. Many people make the mistake of using them as a normal pair of sneakers. Many wear them to school or out for a walk.
But in both cases, it's always important to keep a close eye on your children, as danger can arise at any street corner.
Roller shoes and their dangers for children
The inlaid wheels in rolling shoes are around four to five centimetres high. As a result, the weight of the body is not distributed evenly across the soles of the feet. In fact,there's an overload in the forefoot and heel area. The wearer of rolling shoes tires more quickly.
This manufacturing process can also lead to muscle and bone deformities, such as metatarsalgia. Shortening of the posterior muscular chain is also possible if the child wears this pair of shoes too regularly. The child's gait may also change as a result.
Because of the reduced support surface, stability is significantly reduced. A lack of attention on the part of thechild can lead to imbalance. Your little one needs to remain alert at all times to the risk of falling and hurting himself, especially if there is no protection.
How do I choose the right roller/skate shoes?
Even if they belong to different brands, the best roller skates and roller blades have very few dissimilarities in their designs. Roller shoes, on the other hand, can differ completely depending on the manufacturer. It's therefore essential to choose the right shoes for your child's safety and comfort.
Front-to-rear weight ratio
Wheeled sneakers are usually manufactured with a ratio of 40% to the front and 60% to the heel to the heel. This design creates a high risk of bone deformation in children. Children's bones and muscles are still growing and can be easily modulated. Without knowing the reason, your little one may also complain of pain in the legs and feet.
To avoid this kind of problem, we recommend choosing rolling shoes with a weight distribution of 70 on the heels and 30% on the front. Pain will be limited.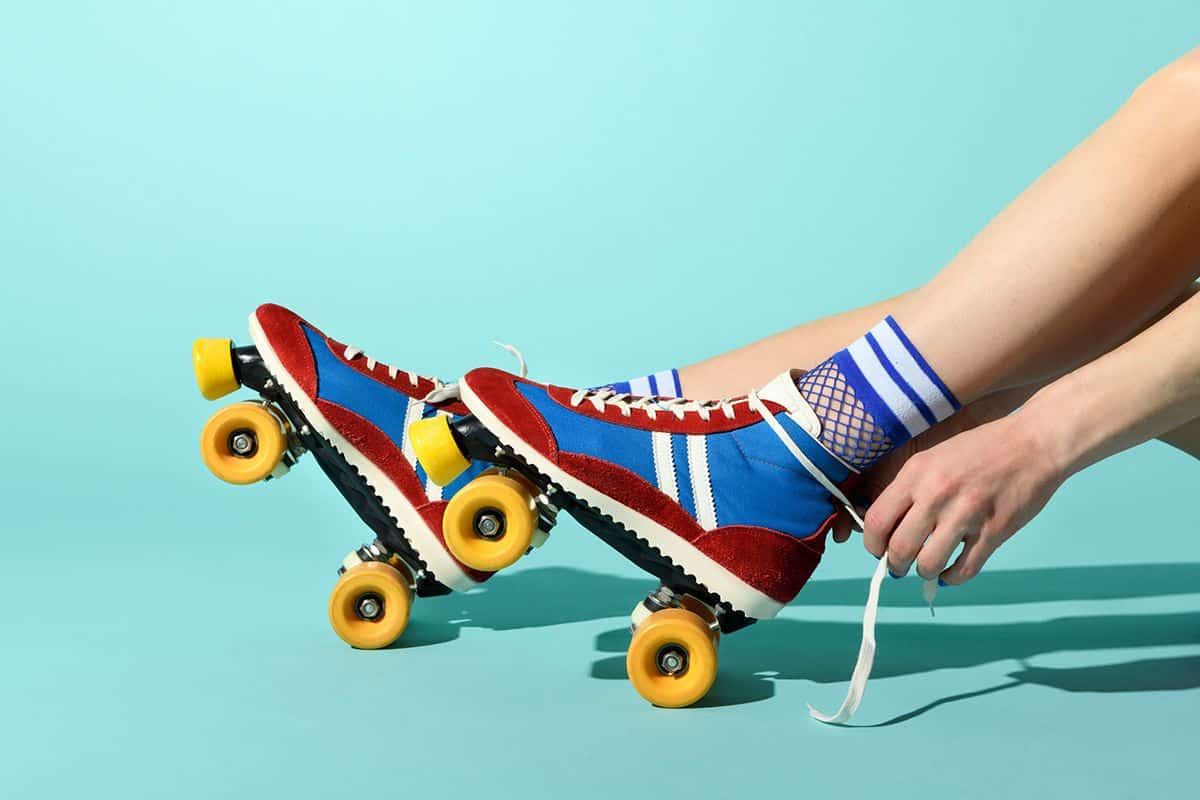 The right size
Lacking choice, perseverance or discernment, some parents choose the wrong shoe size. If they're too small, your little one's feet won't be able to develop properly. What's more, he'll only be able to wear the shoes for a short time. On the other hand, by choosing sneakers with wheels that are too big, comfort is reduced and the little one also runs the risk of spraining his ankle.
That's why it's important to select a pair that's not only suited to your little one's feet, but also to his or her age. With a margin of 0.5 cm to 1.5 cm more, the shoes will accompany your child as he grows, without being too big.
Shoes should reach below the malleoli
The malleoli are the lateral bones at the ankle. The height of your child's rolling shoes should not exceed this area, to keep the joint mobile. If you've chosen boots with wheels, make sure they're made of flexible material. Freedom of movement at this axis must not be impeded in any way. This criterion should not be overlooked, especially if your little one plans to keep the pair on even when he's not playing.
Avoid ballerina or flip-flop models at all costs. If the feet overflow, areas such as the toes will come under a lot of pressure. What's more, the risk of injury is greater, as there is no protection in these areas. The best skates cover the whole foot.
Style
Parents tend to choose clothes and accessories that are out of fashion in the eyes of their children. If you make this mistake with roller shoes, you run the risk of making your child lose interest in wearing them.
Of course, children's tastes change according to the latest trends. So don't go for a pair that's too childish either, because as he grows older, he'll pay less attention to them. In any case, try to choose a sturdy yet timeless model.
As far as skates are concerned, it's possible to find adjustable roller skates. In general, they are best suited to those with some experience. However, they are also available for children who are just starting out.
Teaching your child to put on the right shoes
Even if you've chosen the right pair, there's always a risk of injury if your child doesn't know how to put on roller shoes or skates properly. So it's vital to teach your child how. Here are a few tips.
Limiting wearing time
If you find the right skate, shoe or rollerblades for your little one, he or she may not want to take them off. Of course, it's great to see your child so passionate about something. But these accessories are only worn for a few hours a day.
Even if he sulks, don't wait until you see irreversible after-effects before imposing rules.
Always wear shoes with socks
Some children refuse to wear socks, perhaps because they feel uncomfortable. However, the material chosen for the socks is soft and reduces friction with the inside of the shoes. So there's little chance of blisters appearing after a few hours' use. This is one of the reasons why you shouldn't choose models that are too tight.
Socks are also designed to absorb sweat. In theory, this prevents the child from smelling feet. What's more, the material used to make shoes and skates is protected as far as possible from too much moisture, to guarantee their longevity.
Wear normal shoes
Even if your little one loves his roller shoes so much that he can't take them off, he needs to be made to understand the need to wear conventional shoes more often. The aim is to reacclimatize his feet to correct posture and adjust his gait.
Indeed, even with proper weight distribution, roller sneakers have the same problems as heeled shoes. They tire the legs and cause pain if worn for too long.
How do you teach your child to roller-skate?
Introduction to roller shoes and/or skates should always be supervised. The following tips will help your child master his new pair of shoes.
Teaching balance
Learning to use rollerblades, roller shoes or roller skates begins in the same way: by studying posture. By finding the perfect posture, your child will be able to maintain his balance. This is the first thing to learn to avoid falling, of course.
The teaching is divided into several parts:
The first is to place the feet parallel to the width of the shoulders. So there's no need to spread your legs too far apart to try and stay upright.
The second is to bend the knees. It's not a question of squatting, but of keeping an angle of between 135° and 160° for the thighs and calves. Of course, this will change with practice.
The third part consists in stabilizing the body so as to be able to move forward without difficulty. To do this, the child needs to bend his or her torso slightly forward.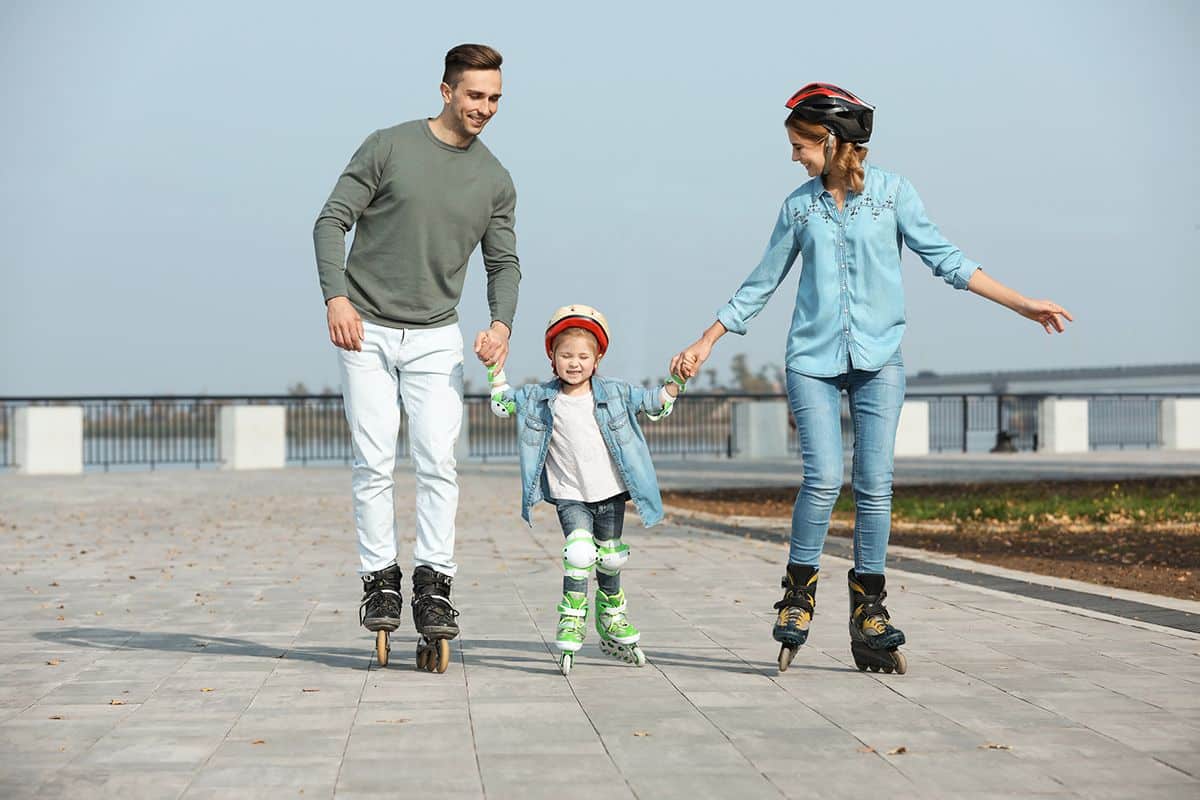 Learning to move forward without falling
Once you've got the hang of it, you can teach your child to move forward slowly. The safest way to do this is on grass. The grass will act as a brake at the beginning of the learning process. It also makes it easier to work on balance, and will boost your toddler's confidence. To move forward, he'll have to try to place one foot in front of the other, until he naturally acquires the technique. Playing on grass is a good way to strengthen many of the body's muscles. It also has other benefits for children. What's more, it's safer for your little one. The turf can cushion his fall should he fall.
Safety precautions
A fall-related injury can quickly discourage your child. Of course, there will be many falls, but to avoid getting hurt, you mustn't neglect safety. Certain parts of the body must be protected first and foremost.
The head: it's imperative that your child wears a helmet when playing with rollerblades or roller skates. Even the slightest blow to the head can be very serious.
Hands: Your child should be equipped with wrist guards and gloves. If he falls, he will automatically throw his hands towards the ground to try to break the fall. Without proper protection, there is a high risk of fracture.
Elbows and knees: elbow and knee pads are also essential to prevent abrasions in these areas.
If you'd like even more details, go to our Kids World section on learning to rollerblade easily. You'll then have all the information you need to give your little one the best advice.
Skates or shoes: our conclusion
On the whole, your child 's preferences are a point not to be neglected if you want to encourage him or her to take up a sport. In our section on how to help your child find his or her physical activity, you'll find a few tips and hints to guide your little one's choice.
If your little one has chosen roller skates, take the time to choose the models best suited to his or her needs. Obviously, design materials, adjustment and fastening systems, shoe size and various comfort features are among the criteria not to be overlooked. What's more, don't forget to purchase the necessary protection to minimize the risk of injury to your child. We also recommend initiating your little one on grass to limit pain and injury in the event of a fall.
If you can't teach your little one to skate, try skating lessons. There are several establishments offering this kind of instruction. This alternative will also enable your little one to broaden his or her environment and meet new people. Which can only be good for his or her personal development.
And what about you? How did you introduce your little one to skates or roller shoes? Which accessories did you choose for your child? Why or why not? We'd love to hear about your experience. We invite you to leave us a comment and tell us your stories