All children dream of a personal space where their imagination can run wild. As parents, we too hoped for such a place when we were young. There are, however, a number of obstacles to the realization of this project. First of all, there's the lack of space, time or ideas. In any case, take advantage of our advice on how to design a children's playroom.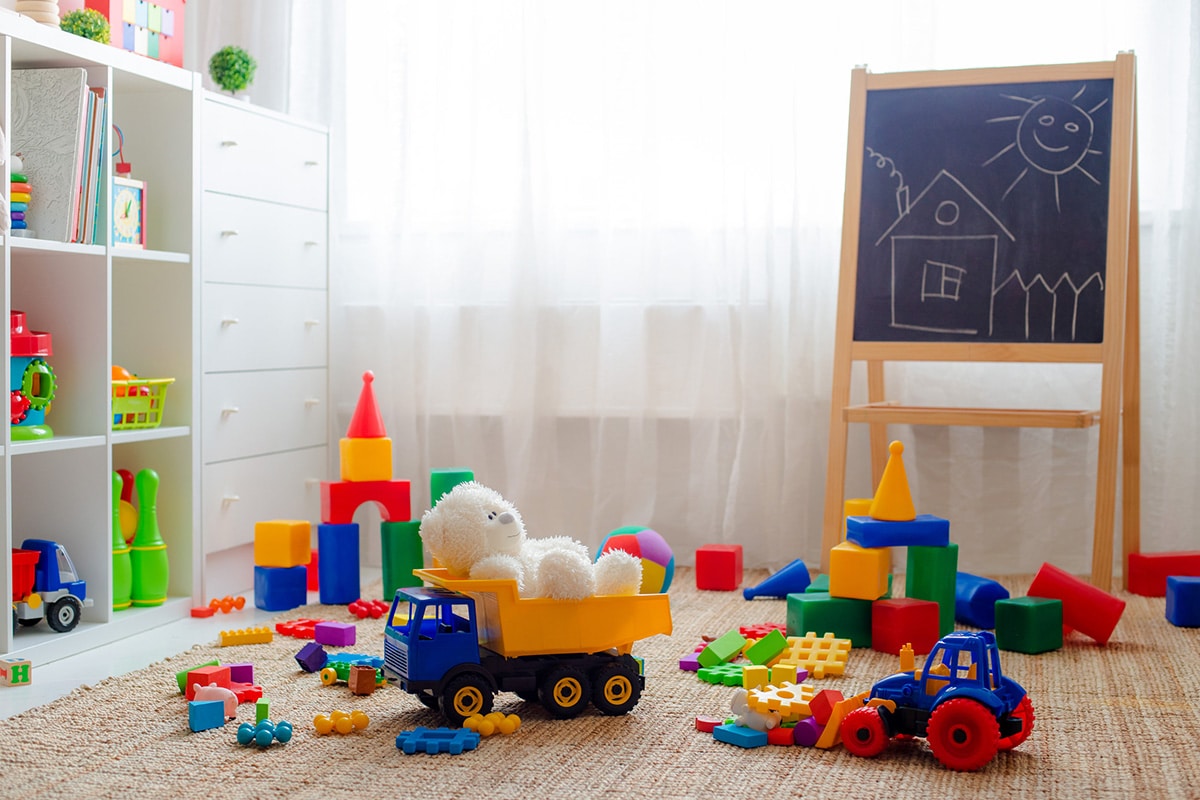 A playroom: what's it for and what are the advantages?
Having a children's playroom in the home can be seen by many as a futility. However, such a room has a number of unsuspected uses. Firstly, it prevents you from finding your little ones' toys everywhere they shouldn't be: the kitchen, the living room and even the bathroom. These objects lying around can cause accidents if you're not careful. In a playroom, your little ones' things will have a clearly defined place, and you'll keep the rest of your home tidy .
What's more, your child will also need a place of his own where he can develop his imagination and creativity. This is one of the main roles of a playroom. It's also a place where he can invite his friends and socialize without disturbing the rest of the family.
In the absence of a yard, an indoor playroom gives your little ones the opportunity to expend their energy and design fun activities to spend their day. What's more, even if you have a garden, this room will serve as a refuge for your little ones during inclement weather.
A well-appointed playroom can contain several distinct areas, such as a reading corner, a relaxation area, a work space, a hammock and even a swing. It's a great way to get your kids away from the TV and phone screens for a while.
Planning the space
A playroom is a room with great potential. It can be used as a landmark and as a lounge to welcome your children's guests. Even in a small space, you can create different, well-defined zones. But how should it be arranged, and what features are essential?
The playroom is where the majority of your children's toys are stored. A dedicated storage unit should be placed in the corner. For activities such as building , reading or drawing, your little one will need a small coffee table. For this purpose, use footstools or chairs.
You can also place shelves on one wall. These can hold books, teddy bears or decorative accessories.
If your room has high ceilings, create a mezzanine-style shed. Your little one can play Indians or bandits. If you have enough space, you can add a slide as a way down. A beautiful ball pool at the finish line will delight your little one even more.
The most important thing when designing a playroom is functionality. We know you want to spoil your children, but avoid overloading the room with everything and anything. Keep traffic flowing to ensure safety. Keep it reasonable.
Multi-functional storage spaces
Storage space is essential in a children's playroom. Even more so if space is limited. To store a large number of toys, we recommend shelving units with large compartments. Opt for bin-shaped drawers to better conceal your little ones' mess.
An office table can also be fitted with a few compartments in which to store certain belongings. This makes the furniture doubly functional.
You can also choose to install a storage bench in the room. This structure has two roles: seating and storage space. There are also poufs on the market that can be used as trunks. The idea is to opt for 2 or 3-in-1 furniture to save as much space as possible.
Make the most of bedroom walls by hanging shelves. However, avoid cluttering up all 4 partitions. This would darken the room and make it look cluttered. We advise you to install all the storage spaces on the same side to create a certain symmetry.
Useful decorating accessories
Decorative accessories are just as important as the toys that will flood the room. These ornamental objects will add character to the playroom while making it a pleasant place to be.
Some of the products your little one will need are as follows:
Alarm clock: this will help your little one keep track of the time, so he won't be late for appointments even if he's distracted by playing. Thanks to this item, he'll be able to manage his time on his own.
A bedside lamp: today, this accessory takes many attractive forms. Models intended for children's bedrooms often have an unusual design to bring a touch of cheerfulness to the interior decor. We advise you to opt for changeable versions that your little one can move around as he pleases. They'll also provide light even in the event of a power cut. This will reassure even the most fearful.
A children's teepee: if you can't build a little indoor hut in your little one's playroom, a teepee will make a fine substitute accessory. In addition to bringing a touch of originality to the room, it will also serve as a play area in its own right or as a cocooning space.
A children's dressing table: this is a practical piece of furniture for taking one last look in the mirror before leaving. What's more, manufacturers give them an attractive design to make them real decorative objects in a playroom.
A playroom in a child's bedroom: is it a good idea?
If there are no roomsavailable for a playroom, it may be a good idea to integrate it into the bedroom itself. For this purpose, we recommend a bed in the shape of a tree house. It can be used as both a bed and a play area. Your little one can imagine scenarios involving Indians and cowboys, or simply imagine living in the mountains.
To delimit spaces in the room, create colored zones with paint. To do this, draw geometric shapes on the walls, for example. This will help you create the illusion of the room's real size. If you have the space, consider installing dividers.
Avoid dangerous structures such as a swing in a space that's too small. Your child could injure himself while playing, or break objects. Instead, you can draw a hopscotch game on the floor or create a climbing wall near your little one's bunk bed.
For a cosy corner without clutter, place a few cushions of different colors on the floor on a thick carpet, or add a few poufs here and there. Position the work table against a partition rather than in the middle of the room. If you have a large surface area, you can place the table in the center.
It's true that setting up the playroom in the bedroom may be a little unfair. However, it's still possible if you opt for practical furniture that optimizesspace. See also our top tips for designing a children's bedroom.
What kind of furniture for a children's playroom?
A children's playroom must have a certain functionality. Furniture plays a crucial role in this. In addition to the various storage areas needed to keep the room tidy, there are a number of other items to consider:
The table: essential for writing, drawing, reading, having a snack or tea with friends, doing a puzzle, assembling building blocks and many other activities.
Chairs: to welcome and seat guests comfortably in the playroom.
Slide: as well as being a decorative piece of furniture, a slide is a very popular game for children, especially if they can also dive into a large ball pool.
An armchair: to sit comfortably and read a book or simply listen to music or watch a favorite TV program.
A footstool: a useful extra seat. It's easy to move around, so your children can sit wherever they like in the room.
A swing: if you have a solid supporting beam and a large room, this accessory is sure to entertain your little ones.
A bookcase: indispensable for storing your little one's magazines and comics.
TV stand: for your little one's TV and games console. It can also accommodate a DVD and CD player.
Keeping children safe in a playroom
A playroom may be a place where children have fun, but it's also a place where accidents happen. If your little ones are still very young, it's a good idea to install protective covers on tablecorners and to hide plugs.
If you've decided to install a climbing wall in the room, place a padded mat or thick mattress nearby to cushion your little one's presumed falls.
Always place shelves against the walls to prevent them from falling over backwards. In fact, your child might have the idea of climbing on them. Which would be catastrophic.
Always check the functionality of the room. There should be enough space between the main pieces of furniture so that they can move around the room naturally without bumping into each other.
If you're installing a swing, check that the supporting beam can bear the load of your children. Don't position the structure too high. It's important for your child to be able to put his feet on the ground at all times. Do not place any furniture within the swing's placement radius.
Avoid placing fragile objects in the playroom. These may include vases or decorative accessories made of glass or porcelain. Candles should also be avoided, as they can burn the house down if you're not careful.
Tips for designing a children's playroom
When designing a children's playroom, it's important to follow a few simple guidelines. First of all, you need to choose a room that's both spacious and well-ventilated. A place with sufficient exposure to the sun will also help you avoid the need to place accent lights in the room.
The most important thing to remember is to optimize thespace to make it functional and uncluttered. By arranging the furniture methodically in the room, you'll ensure that your children can move around smoothly, which will limit the risk of accidents.
The playroom isn't just a place for fun. It's also a place for children to learn. That's why they need a table and chairs where they can sit comfortably and go about their business.
Large installations such as swings, slides or huts should only be set up if you have the right surface area for them. Otherwise, they could become a hazard.
So that your children can play at night, place nightlights around the room to provide light. You can also leave an alarm clock in the room, so that your little ones can keep track of the time and know when to stop playing to study or sleep.
Last but not least, there should be enough storage space for all your little ones' toys and belongings.
What about you? How have you set up your child' s play area? And what advice would you give to those planning to create one of their own? We'd love to hear from you in the comments.