Are you wondering at what age you can introduce your child to cooking? Is he or she too young to take cooking lessons? These questions from parents are perfectly legitimate, when you consider that the kitchen is a place of multiple risks: knives, ovens or electrical appliances of all kinds… This place is teeming with potential dangers.
Yet the art of cooking is an excellent exercise for children, who can develop their fine motor skills, awaken their five senses, exercise their creativity and gain in independence. Not to mention the satisfaction of the end result and the self-esteem it engenders… So what's the ideal age to start learning to cook, and why? In this article, we take a five-point look at the question.
The benefits of cooking for children
The benefits of teaching children to cook are well established. Among the countless benefits of cooking for toddlers, we can list the following:
Developing fine motor skills
Learning to handle different utensils, whipping, stirring, stirring, flattening, shaping, sprinkling… The art of cooking is full of activities, each as fun as the next, but all requiring a certain dexterity and a heightened attention to precision of gesture. All in all, it's an excellent way of exercising fine motor skills while having fun!
Reinforcing independence
Young children will soon want to imitate the gestures you show them, and reproduce them on their own, without your help! It's so satisfying to be able to cook like a grown-up! Once they're older and have learned to read, children learn to follow the steps of a recipe on their own.
A meaningful activity
What could be more satisfying than tasting the fruit of one's labors? Cooking is a meaningful activity par excellence: children follow the process from start to finish, step by step, and can enjoy the results. This is a concrete reason to get involved!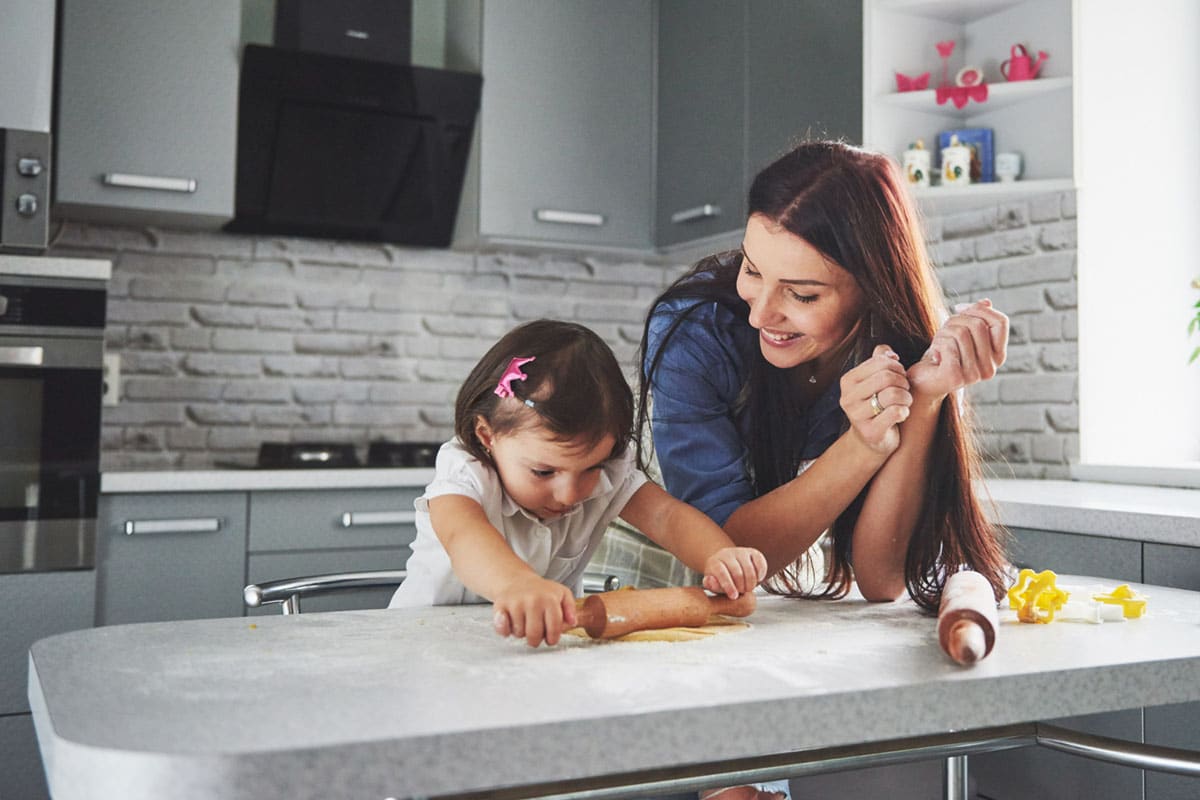 Discipline is a must!
Cooking means organization. When children learn to cook, they also acquire a certain discipline. They quickly realize that if they neglect a step or go too fast, the cake will be full of lumps or undercooked… So there's a whole discipline involved, and you'll be amazed at how quickly children are able to integrate it!
Self-confidence and creativity
The culinary arts are aptly named: they call for creativity. By practicing this activity, children develop and sharpen each of their five senses. Don't hesitate to let them experiment, decorate in their own way or combine flavors… The more autonomy they can exercise, the more self-confidence they'll gain. They'll be proud to see that their dish is a success! And above all, how satisfying it is to be able to share the results of their labors with others! Conviviality is a value not to be neglected, and is an integral part of cooking.
Eating a wider variety of foods
Involving your children in meal preparation also means opening them up to a wider variety of foods. In general, children who take part in the preparation of dishes are more inclined to enjoy them afterwards, especially as they know exactly what foods go into them!
Cooking with children: precautions to take
The kitchen is a place that can be as fulfilling as it is dangerous, which is why certain precautions need to be taken before proposing culinary activities to children.
Adapting the environment for toddlers
In addition to safety measures similar to those taken in other rooms of the house (protection of electrical outlets, adapted closet closures, etc.), there are a number of other precautions to be taken, not least to avoid cuts or burns. For example, don't let the tail of a saucepan protrude from the worktop, or put knives in a safe place.
And don't forget to adapt your utensils. There are wooden whisks and spoons for small hands. Learning towers are also very popular with followers of the montessori method. With such a tool at hand, the child can observe and participate from the ideal height, protected from any possible risks.
Essential hygiene measures
The kitchen is the perfect opportunity to remind children of basic hygiene rules, the first of which is to wash their hands before and after touching food. You should also wash your hands before and after handling raw meat, for example.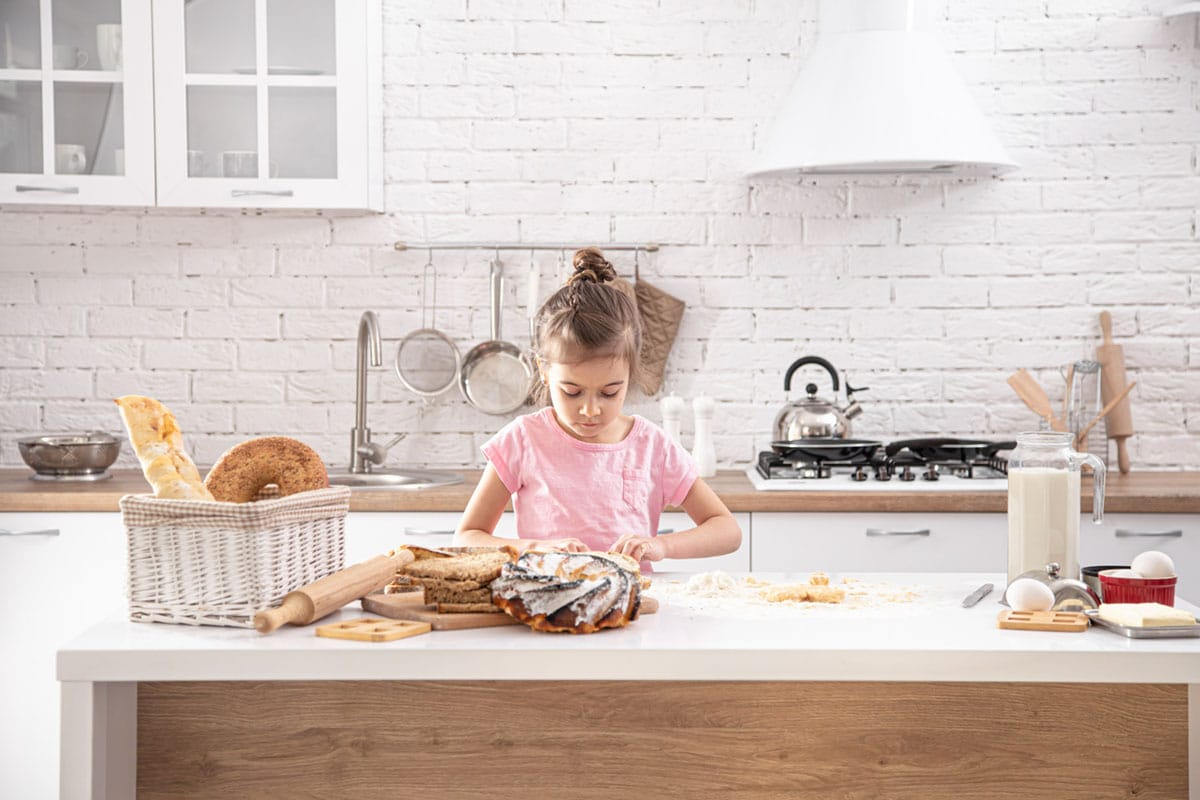 How should I behave as a parent?
How do you position yourself as a parent? Let him do it, yes, but up to what point? Dare to let your child do it, while supervising. And above all, don't worry about him getting dirty or getting it all over the place – after all, that's how he learns! In this respect, your best ally is the apron!
Encourage your child to gain self-confidence and make progress.
And then, the little gourmand will want to lick the dish… Let him do it, but then offer to help with the dishes and tidying up. Because that's what cooking is all about: cleaning and tidying up… The child needs to be aware of all the stages in the process, even the less pleasant ones.
Different tasks for different ages
The key word when it comes to cooking? Step by step. Everything in its own time. Whether within a recipe or in the process of learning to cook, it's best not to rush things.
Here's an example of tasks that children can do according to their age. Of course, the ages are given as a guide only, as each child evolves at his or her own pace.
Around 1 year
Give the child a wooden spoon and a plastic container to imitate;
Give them fruits and vegetables to handle;
Let them touch and smell food.
Around 2-3 years
Count ingredients;
Fetch some ingredients from cupboards;
Add food to a container;
Wash vegetables and fruit;
Place toppings on a pie.
Around age 3 or 4
Pour cake batter into pan;
Mix ingredients;
Peel certain fruits (bananas, oranges, grapefruit, etc.);
Mash cooked vegetables to make a purée, for example.
Around 4 to 6 years
Break eggs and beat them;
Whisk ingredients together;
Use a suitable knife to slice bananas, for example;
Spread with a suitable knife;
Squeeze a citrus fruit;
Chop mint or other aromatic herbs with appropriate scissors.
Children's cooking classes: a parent-child activity
Children's cooking classes, or parent-child classes, are a great way to give youngsters a good culinary education while exercising their social skills. Cooking at home is one thing, but learning to cook with a professional chef and surrounded by other children is another!
Cooking lessons are generally offered to children aged 3 and over.
In addition to their know-how, cooking teachers are able to teach the subtleties of the culinary arts to children and parents alike.
Not to mention the fact that this activity can also inspire vocations..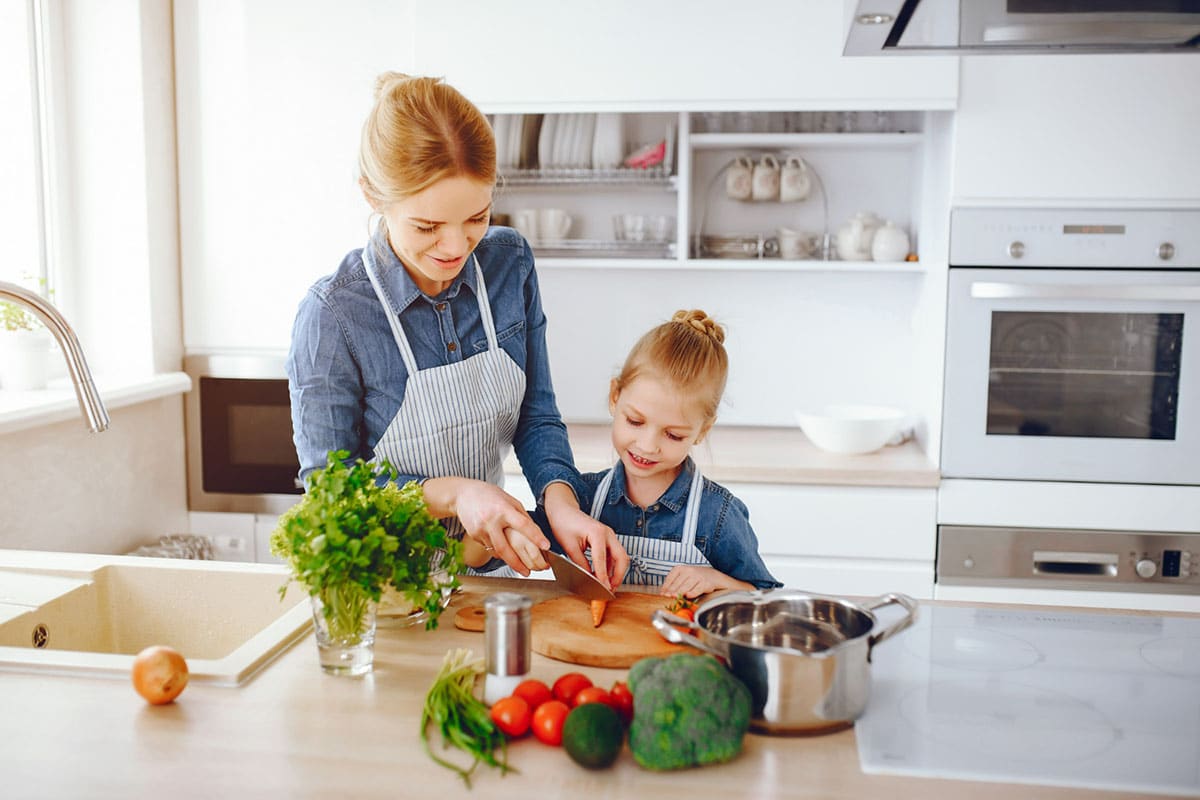 At what age can a child learn to cook? We sum it all up for you!
To sum up, children can be introduced to cooking from the age of 1, for the simplest tasks. Cooking classes for children are generally offered from the age of 3.
At what age did you decide to introduce your children to cooking? Don't hesitate to comment on this article to tell us about your experience!