School, work, the same concrete streets every day… Life becomes routine when you start to get fed up with seeing the usual settings. This can cause a lot of stress, and can even lead to depression. Getting outdoors for a few days helps you to decompress. It's best to leave the city and its buildings behind and go camping.
However, this change of scenery requires careful preparation, especially if you have children. The use of a special children's sleeping bag is essential to ensure their comfort and a good night's sleep in the tent. So it's crucial to choose the right one. This article gives you all the information you need to select the best models, as well as the benefits of camping for your children.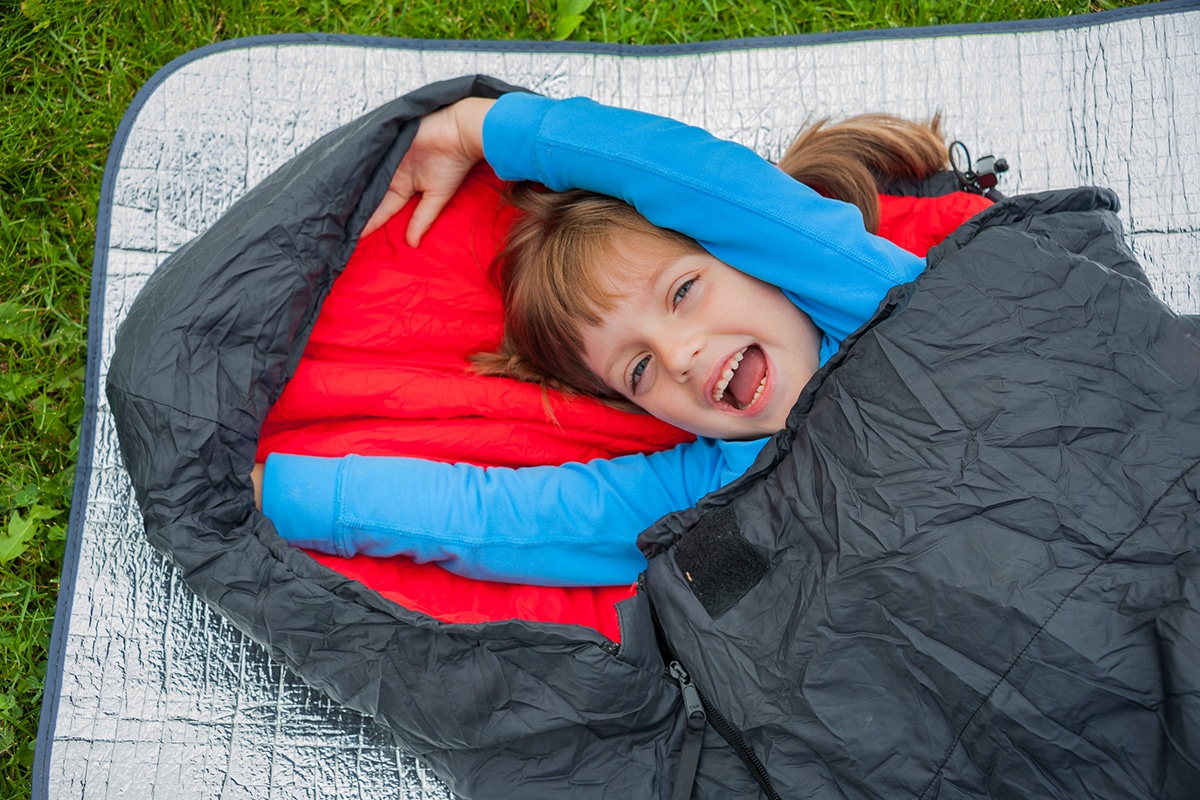 What are the benefits of camping for children?
Disconnecting from the world and experiencing an adventure in a green setting is just what your family needs to strengthen the bonds between you and, above all, get away from the routine of everyday life. The prospect is ideal, but without proper preparation, it could turn into a nightmare for parents. However, there are many advantages to this little jaunt, especially for children. What are these benefits, you might ask?
Children get a better night's sleep
The artificial light of a lamp and the blue light of your high-tech devices completely disrupt your body's biological clock, changing the circadian rhythm of sleep. This has an even greater impact on children, and can make them cranky early in the morning. When you're out in nature, you'll be exposed to a lot of natural light. This automatically stabilizes your sleep cycle, ensuring a good night's sleep. So your little ones will sleep on time and get up early, in good spirits and with plenty of energy for all the activities they have planned.
Camping helps develop children's imaginations
When children go camping, you don't really need to take them out to play to keep them entertained. Anything they find around them will stimulate their minds to help their imaginations run wild. Make swords out of branches and return to the days of knights, a string from Dad's tool bag and a branch can be used to make a fishing rod, and so on.
Camping to build self-confidence
Having to fend for themselves without appliances and technology to prepare meals helps your kids become more inventive. Even things that schoolmates find strange can become a strength in this natural setting. After a successful night in the great outdoors, with mosquitoes, fireflies and wild animals, your little ones will also be less afraid. They'll be more confident once they're back in the wild. When you take them fishing, they'll also gain confidence after catching a fish.
Goodbye procrastination
The many stimuli surrounding children at home and at school are distractions that prevent them from concentrating on what they need to do. Because of all these factors, many put off tasks and homework until tomorrow. Once out in nature, there will be fewer distractions. Your little ones will then be able to concentrate a little more on what they have to do, including everyone's chores, without waiting for tomorrow.
Once they understand that it's more profitable to finish tasks early, they'll be less inclined to procrastinate. Sleeping in a sleeping bag (perhaps for the first time) is also so exciting that your little ones will want to help you set up the tent. It also makes them more helpful.
How to choose a sleeping bag for your child?
The design of a sleeping bag varies according to the manufacturer and many other criteria. As with adult sleeping bags, children's models are not to be chosen lightly. So before you buy, it's important to know how a children's sleeping bag works, and how to choose the right one.
How does a sleeping bag work?
Simply put, it's a bag you can lie down in. It features a body-hugging design. This provides a sense of security, as the whole body is covered, hence the importance of size for children. It also leaves plenty of room for you to move around inside. Of course, there's an opening where you can stick your head out to avoid suffocation. Some models come with a hood to protect your head from the cold. Many details make this type of item suitable for outdoor use.All these features should be taken into account before buying, as there is a wide range of sleeping bags to choose from.
How to choose the best model for your little one?
The following criteria should be checked if you want to buy a sleeping bag for your child.
Shape
Depending on the manufacturer, there may be several different sleeping bag shapes. Each has different properties that may or may not appeal to you.
Then there's the mummy bag. This is lightweight and very warm. It's designed to hug the body to minimize heat loss. It can, however, feel confining at a certain level.
The top bag is ideal for those who want to keep the weight of their pack to a minimum. It features a hiking mattress instead of an insulating mat.
The barrel bag, on the other hand, is designed above all for those who want more space. It has no hood, but offers an oval shape. It is heavier than the first two.
The rectangular bag is best suited to backyard camping. It offers fairly low insulation, and is heavy and bulky. It's best suited to summer use.
Sizing
It'simportant to select the ideal size for your camping sleeping bag. Of course, it's important to choose an item that will allow your child to grow. However, it's not advisable to choose an adult model, as excess space reduces comfort. Your little one may also get cold, as there may be a draught inside.
Portability
It's a good idea to buy a product that's both lightweight and easy to store. Transportability should therefore be a selection criterion. Indeed, if you choose a bulky model, with all the things you need to take with you, transportation will be complicated. It's worth noting that even a children's camping bed doesn't always have compact dimensions when folded.
Care and maintenance
An adult is generally much more resistant than a child. To prevent your little one from developing health problems caused by germs and other bacteria, it's best to buy a children's sleeping bag that's easy to care for. Forget absorbent items. Opt instead for waterproof models. Choose a product with a protection system for the carpet underneath. You'll be able to wash it easily if liquid spills on it.
The filling
If you're buying a camping bed for yourself, there's no harm in choosing a down filling. It offers more warmth and is especially suitable for older people. But for a child, opt for synthetic. The reason is simple: little ones can still wet the bed. Down is highly absorbent and will smell unpleasant if urine gets into it, even after cleaning. Synthetic, on the other hand, allows moisture to seep through. It's also easy to clean and dries much faster. It takes half a day at most when it's hot or windy.
Warmth on offer
It goes without saying that a tent provides protection from the wind at night. But the fabric that makes up its walls doesn't keep out the cold. That's why you need a children's sleeping bag that keeps your body temperature at the right level for a good night's sleep. Some models feature a thick carpet to protect against the cold coming from the ground.
Comfort
For a good night's sleep, it's also essential to insist on comfort when choosing a camping sleeping bag for your child. For example, you can buy a model with a mattress. This can be inflatable or made of fine terry cloth. This will guarantee your little one a good night's sleep and give him enough strength for all the activities planned for the following day.
The advantages of a children's sleeping bag
Many parents focus on the fact that their children will grow up, and prefer to buy an adult sleeping bag as a gift for their little ones. Big MISTAKE! By doing so, you greatly reduce your little one's comfort and, at the same time, the quality of his sleep. So it's best to choose sleeping bags designed for children and specially adapted to the size of your child. What's in it for you?
Effective protection
Special children's models feature a hygienic barrier underneath. This prevents bacteria and soil microbes from penetrating between the meshes. Above all, the bottom wall prevents the spread of germs. So there's no risk of infection, even if your child's skin is very sensitive. When you choose a model adapted to your little one's size, he'll always stay on the boundaries of his sleeping area.
Greater reassurance
When all limbs are under the comforter and do not extend beyond the edges of the bed at home, a child feels secure. Indeed, he has the impression that a monster will come and take a foot or an arm if these limbs are not completely covered. The design of a Children's Sleeping Bag prevents these extremities from slipping out of the cover. This would not be the case with an adult model, as it offers too much space and the little one would not feel confident.
Easier washing
In theory, all sleeping bags are washable. But the design of some makes it difficult to reach the bottom. Children's sleeping bags are much easier to care for, to ensure optimum hygiene.
Of course, just having a tent and a sleeping bag isn't enough for proper camping. You need all the equipment you need for family camping if you want to spend a few days in the great outdoors in good spirits. And don't forget to find out about all the provisions you need to bring with you. This will enable you to eat well, without leaving the wilderness atmosphere and without impacting on the environment or the ecosystem of the area.
Children's sleeping bags: in a nutshell!
Camping from time to time is good for the whole family. You can strengthen the bonds between each member, while getting a change of scenery. And, let's face it, it's a great way to unwind. For the well-being and comfort of your children, remember to buy sleeping bags adapted to their conditions. There are many selection criteria to consider when choosing this type of product: design materials, shape, brand, size and filling. If you think that other features should be added to this list, don't hesitate to share your opinion in the comments. You'll be helping parents with little experience in the field.