Cycling, skateboarding and rollerblading are very popular activities for children. They allow them to expend their energy more effectively, while at the same time getting them away from their TV screens, phones and tablets. They also help them integrate into society by meeting new people who will later become good friends.
That said, despite the various benefits and advantages, caution is still called for. Accidents do happen. Among the protective gear you need to keep your little one safe, a helmet is a must to avoid concussion. Find out how to wear it, adjust it and choose it.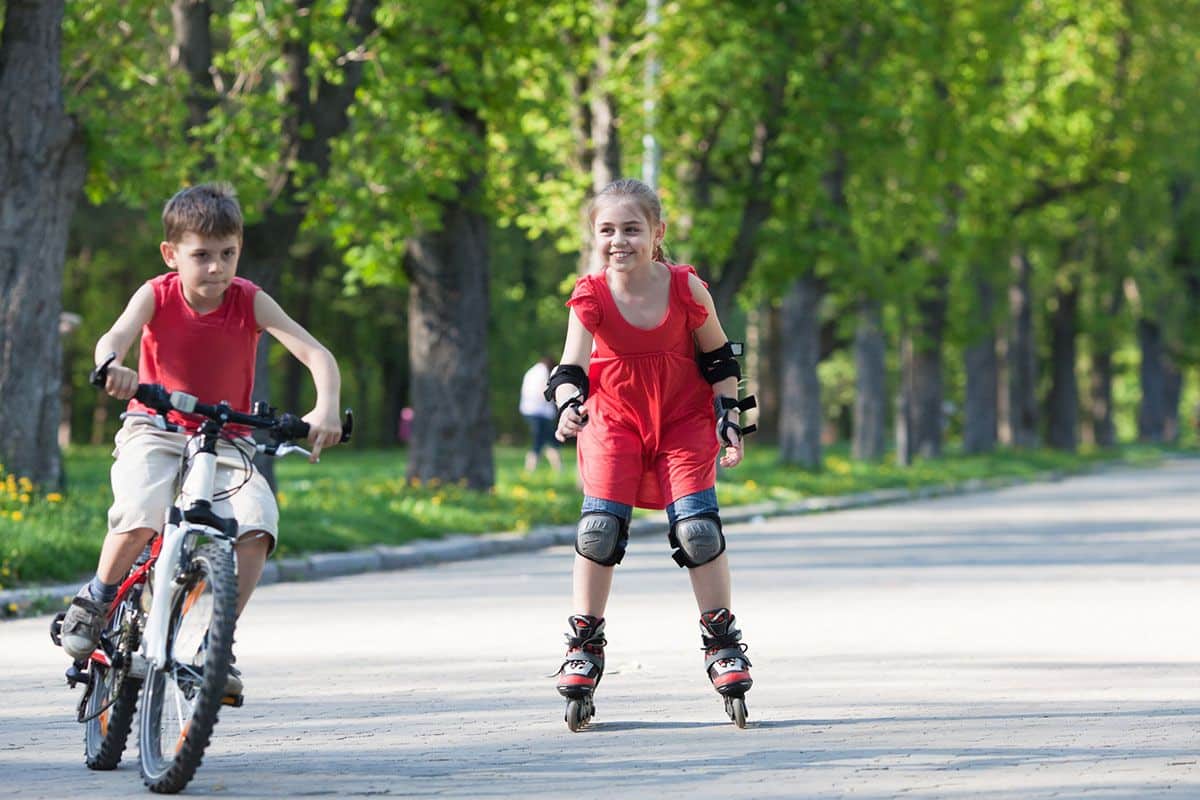 Children's helmets: essential for riding
Teaching a child to ride a bike, skateboard or rollerblade is risky business. Falls are inevitable throughout the process. That's why they need protective gear such as elbow and knee pads to avoid fractures and serious injuries.
That said, one of the most feared consequences of these practices is head trauma. Hence the need for helmets.
In terms of road and traffic safety, helmets are compulsory for children under the age of 12. Failure to do so may result in a fine of 130 euros. For children's rollerblades and skates, you need to stay on the sidewalks and crosswalks.
How do safety helmets work?
The role of a protective helmet is to:
Absorb shocks to the head;
Reduce the risk of skull or brain injury by 85%;
Prevent up to 4 types of head trauma;
Protect the chin from injury thanks to the chin strap.
In general, all helmets have the same functions. However, models differ according to the discipline practiced. A child's bike helmet, for example, would not be suitable for skiing, and vice versa. There are several safety standards to take into account.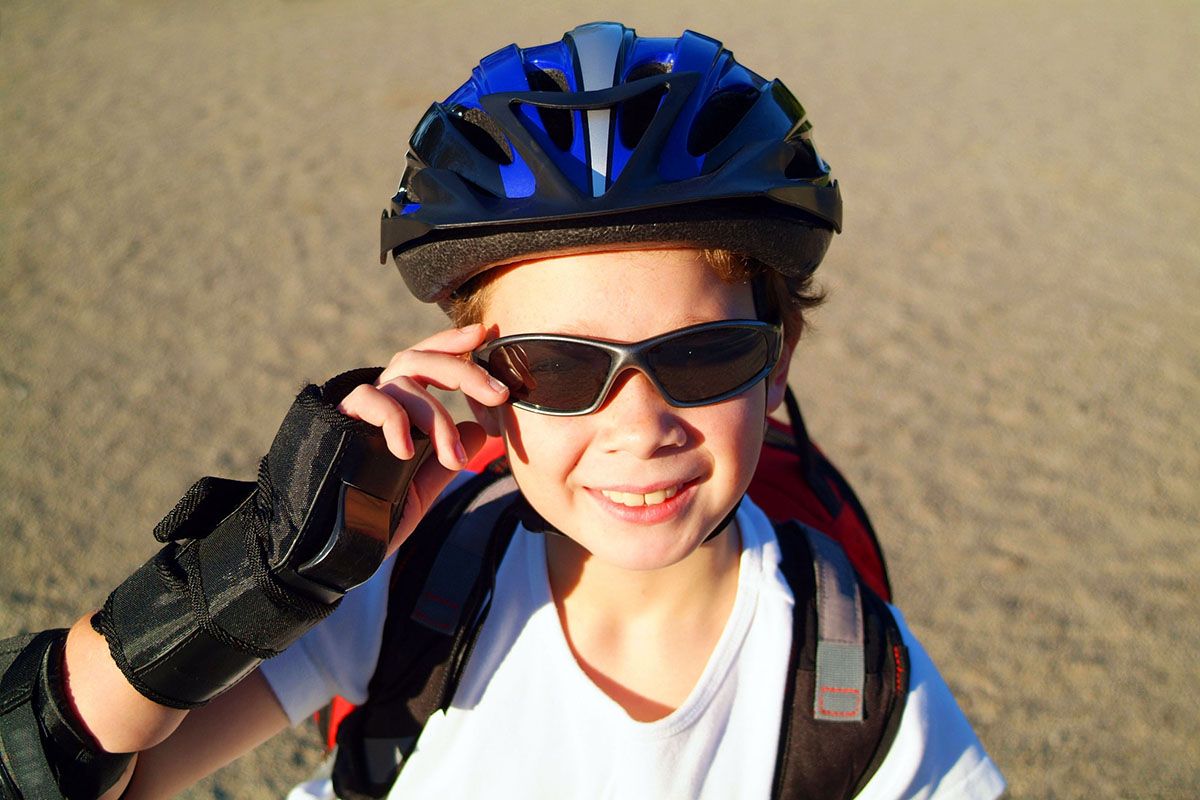 Protection standards for sports helmets
Various disciplines require the use of a helmet. These include skiing, tobogganing, field hockey, horseback riding, climbing and, of course, board sports. For the latter (rollerblades, skateboards, bicycles, scooters), you need to take into account the NF EN 1078 safety standard for helmets. If your child is under 7, look for helmets with the NF EN 1080 standard.
When should I change helmets?
Over time, helmets deteriorate and lose performance. It is generally advisable to replace them when they are over 5 years old. However, there are certain signs that should alert you, such as
The presence of a crack in the shell;
Loose parts;
Cut and detached straps;
The helmet is too small for your child's head;
Your child has had a heavy fall: a heavy impact may have damaged the helmet, even if there are no visible cracks. In this case, you need to replace the helmet immediately to be sure of its reliability.
How to fit your child's helmet properly?
It's not enough to have a well-made helmet suited to your child's sport. They also need to know how to wear and fasten it. If the helmet is badly positioned on the head, it could do more harm than good in the event of an impact.
What's the right position for a child's helmet?
To avoid head trauma, the child helmet must protect not only the back of the head, but also the forehead . The helmet must be perfectly centered and immobile. It must neither lean forward nor slide back, and certainly not be offset to the sides.
Furthermore, your child 's head must be perfectly embedded in the helmet. The equipment must not float on the skull. To achieve this, choose the right size and make sure the straps are securely fastened.
How do I adjust a child's helmet?
Generally speaking, helmets for sliding sports and cycling have a tightening mechanism in the form of a knob. Simply turn the knob until the helmet is secure and stable. But be careful! The aim is not to block your child's head. Your child must be able to feel perfectly at ease, and above all, his or her blood must circulate properly to avoid discomfort during exercise. To find out if the helmet is correctly positioned, ask your child to shake his head. If the equipment doesn't move, all is well.
As for the straps, the ears should be positioned between the V-shaped part. The adjustment should be neither too loose nor too tight under the chin. To perform comfort tests, ask your child to speak or open his mouth wide. He/she should be able to make these movements easily and without discomfort.
What to avoid
For a helmet to perform at its best, it must be perfectly adapted to the shape of your child's skull. It is therefore totally forbidden to wear a hat, cap or bandana under the helmet.
There are several ways to protect your child's head from the cold. In fact, some helmets are equipped with external protection dedicated to this purpose.
My child refuses to wear a helmet: what can I do?
When riding a bike, rollerblading or skateboarding, wearing a helmet is an essential safety measure for children. However, some children have difficulty adopting this accessory.
Why does my child refuse to wear a helmet?
Before demanding that your child wears a helmet, you need to understand why he or she refuses to put it on. There are several possible reasons:
Discomfort due to parts that bother his head;
The accessory is too small and constricts his skull;
The front piece obstructs his vision;
He doesn't understand the point of wearing this protection;
You don't wear a helmet when you ride your bike;
He doesn't like the style of the accessory.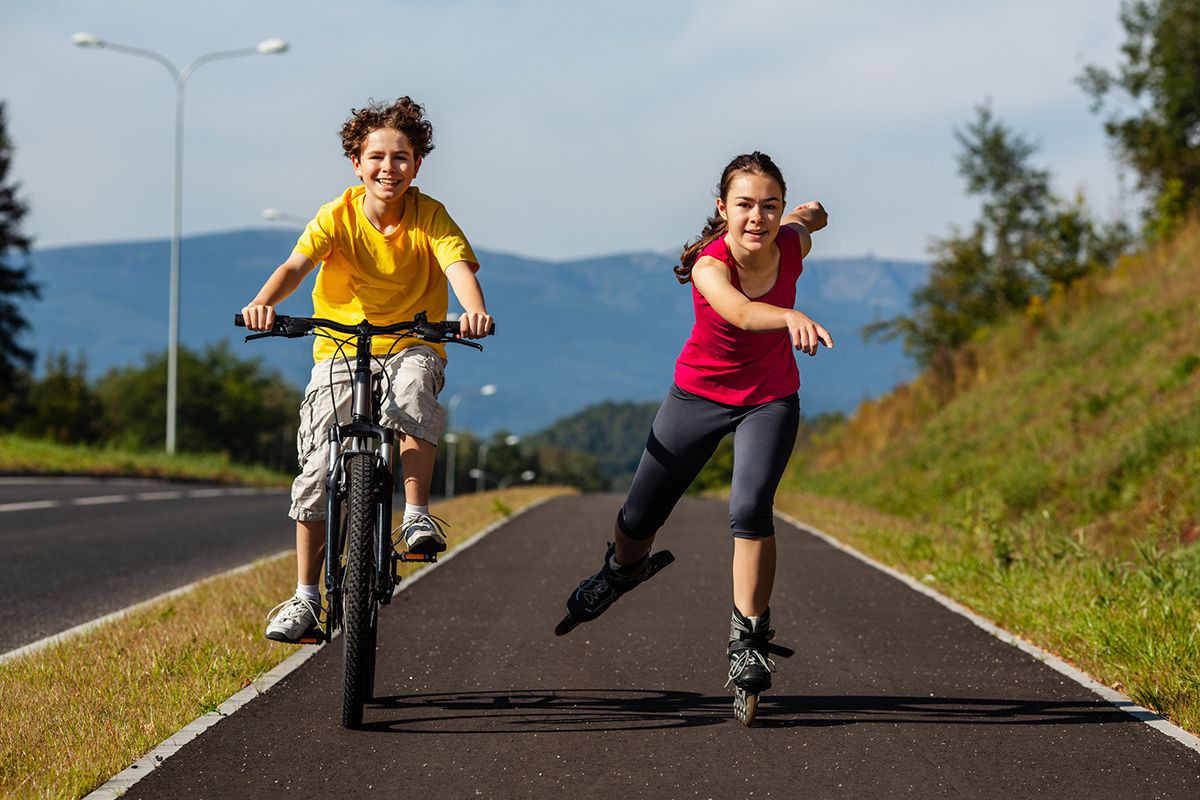 Tips for convincing your child to wear a helmet
To persuade your child to adopt a helmet, you need to find the best solution, depending on the reason for his or her refusal.
Buy the helmet together: if your child is more demanding when it comes to fashion and style, it would be preferable to choose the model together. What's more, it's a good idea to try on a helmet before you buy, to avoid getting the wrong size.
Wear a helmet too: when you go cycling, skating or rollerblading, get into the habit of wearing a helmet too. That way, your child won't wonder why he or she is the only one who has to wear one.
Explain the purpose of a helmet: tell your child that the helmet is there to protect his or her head from a possible fall, and that it could save him or her from serious injury or even hospitalization.
Which child's helmet to choose?
To choose the right child helmet, you need to focus on the following points:
Use;
Size;
Shape and design;
Materials;
Adjustment devices;
Additional protection.
Usage
The first thing you need to know is whether your child prefers skates or roller shoes. In fact, there are certain differences between children's helmets depending on their use. Bicycle helmets, for example, are generally less resistant than those designed for rollerblades or skates. The former require replacement after certain violent impacts. The latter, on the other hand, are known to be multi-resistant.
If your child plays all three disciplines, opt for a helmet dedicated to extreme sports. These models are safer and last longer.
Helmet size
The size of the helmet is an important feature, as it influences the product's safety performance. Equipment that's too small or too big for your little one's age risks putting him or her in even greater danger.
To choose the right size, measure your child 's head circumference and record the data obtained on the size charts generally found on sales websites.
By way of example:
| | | | | | |
| --- | --- | --- | --- | --- | --- |
| Head circumference in cm | 53-54 | 55-56 | 57-58 | 59-60 | 60 |
| Helmet size | XS | S | M | L | XL |
Please note! Sizing may vary from one brand to another or from one model to another. Ideally, you should try them on for size to see if your little one is comfortable.
Shape and design
Children's helmets come in many shapes. There are, for example
Full-face helmets: these cover the entire head and are usually fitted with a visor. They are mainly used on motor vehicles such as electric bikes and motorcycles.
Bowl helmets: suitable for disciplines such as rollerblading and skateboarding , or other wheeled transport such as scooters. They are also suitable for standard bicycles.
When it comes to design, opt for trendy motifs to please your child. They'll be much more enthusiastic about wearing their helmet.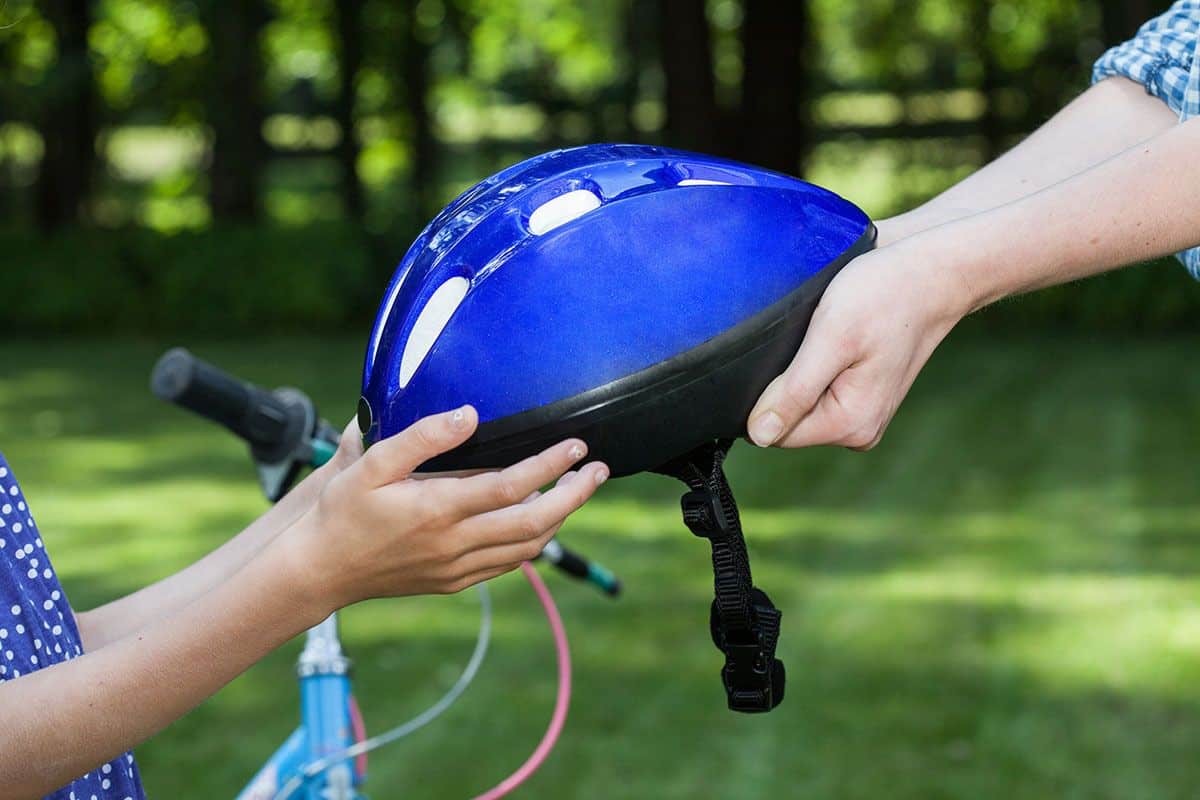 There are also models with a rear light. In addition to being stylish, these items signal your child's presence in the dark. It's an extra safety feature to avoid road accidents.
Materials
Bicycle, roller or skate helmets are generally made of sturdy plastic. What differentiates one model from another is the interior foam. This is actually a block of polystyrene. On some models, this part is removable, on others it is not. Prefer equipment on which this internal component can be removed. Helmet hygiene depends on it. Indeed, you'll be able to clean the product better if this part is detachable.
The difference can also be seen in the finish. Top-of-the-range helmets feature a special paint finish to improve air penetration and guarantee greater wearing comfort.
Adjustment devices
The type of adjustment device fitted to your child' s helmet can influence the precision of the equipment's adjustment, and therefore your child's safety. Among the safest models are those with an adjustment knob at the back. This allows the inside of the helmet to be tightened to the shape of your little one's head. It's also appreciated that the straps can be adjusted to different heights.
Additional protection
Some helmets come with a visor. This prevents projectiles from reaching the driver's eyes. However, make sure your child has a wide field of vision.
Full-face helmets also come with additional chin protection, for example. This isn't always necessary if your child doesn't ride a motorcycle. Nevertheless, learning to rollerblade, ride a bike or skate is not easy. An extra precaution can't hurt for beginners.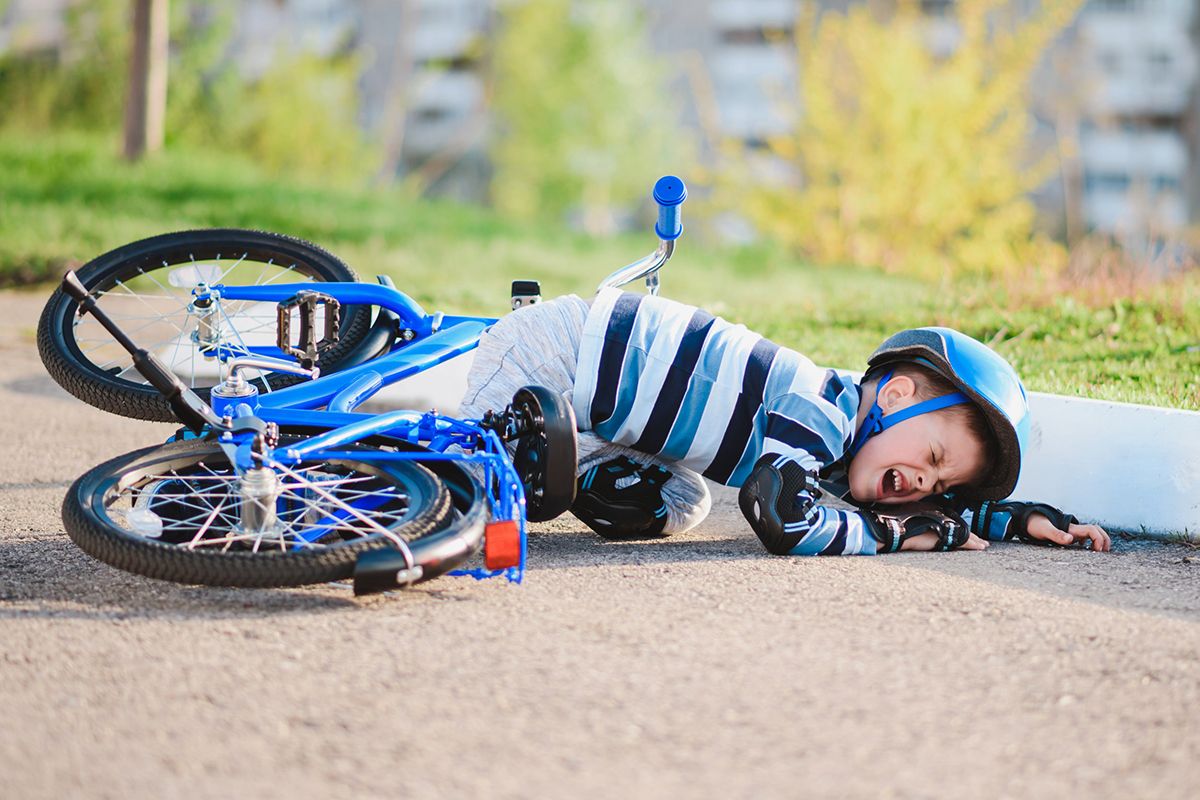 Keep your children safe with a helmet: our summary
Does your child want to become a cyclist, or is he or she interested in roller sports like rollerblading or skateboarding? Whatever the case, make sure you provide your child with a helmet suitable for his or her discipline. Falls happen without warning, and with them complications such as concussion or head trauma.
To ensure your little one's safety, check the helmet's head size, sturdiness and comfort. If you can also find a stylish model, it's even better to encourage your child to wear his protection. Find everything you need in our children's helmet collection. Leave us a comment to let us know if you found this article useful.