Your kids talk about them all the time, but you don't know what they are: Pokemons. Is it the latest cartoon craze or the name of a cracker? If you want to win points with your little ones, you're going to have to make a little more effort to find out about their passions and current hype. But don't panic! We tell you everything you need to know on the subject.
Let's talk Pokémon
Let's start at the beginning. The Pokémon universe was created in 1996 by a man named Stahoshi Tajiri. Today, it's a veritable franchise. Before being a saga, Pokémon was first and foremost a Japanese role-playing video game.
The story revolves around small pocket monsters ( Pokémons) that the main character has to catch and breed in order to complete a scientist's research. Many adventures await the Pokémon trainer throughout the game. The initial version, also called Pokémon First Generation, was called Pokémon Red and Blue.
Building on its success, the franchise has spawned an animated series that follows the adventures of a youngboy named Sacha, who wants to become the world's greatest Pokémon trainer. Through this saga, theuniverse became even more popular with young and old alike. Even today, Pokémon movies are a big hit and eagerly awaited.
Every year, new Pokémon generations are released to keep players and fans coming back for more. There are currently up to 901 species of Pokémon. Kids love catching them all, so they can compare their pokédex with that of their friends.
The pokédex is a device that records information on every Pokémon encountered, caught and bred.
Pokémon also features tournaments all over the world on various Nintendo platforms. Competitions put the trainer's rigor and strategy to the test. This E.sport brings together several thousand players every year.
Pokémon: 26 years of adventure and counting
This year, Pokémon celebrates its 26th anniversary. We've seen many versions over the last half-century. Today, there are 25 series of the game, including the upcoming " Pokémon Legends: Arceus" series. The latter is eagerly awaited for its revolutionary concept compared to previous adventures. Here, the trainer will be confronted with an open world, suggesting longer hours of play and a totally different experience.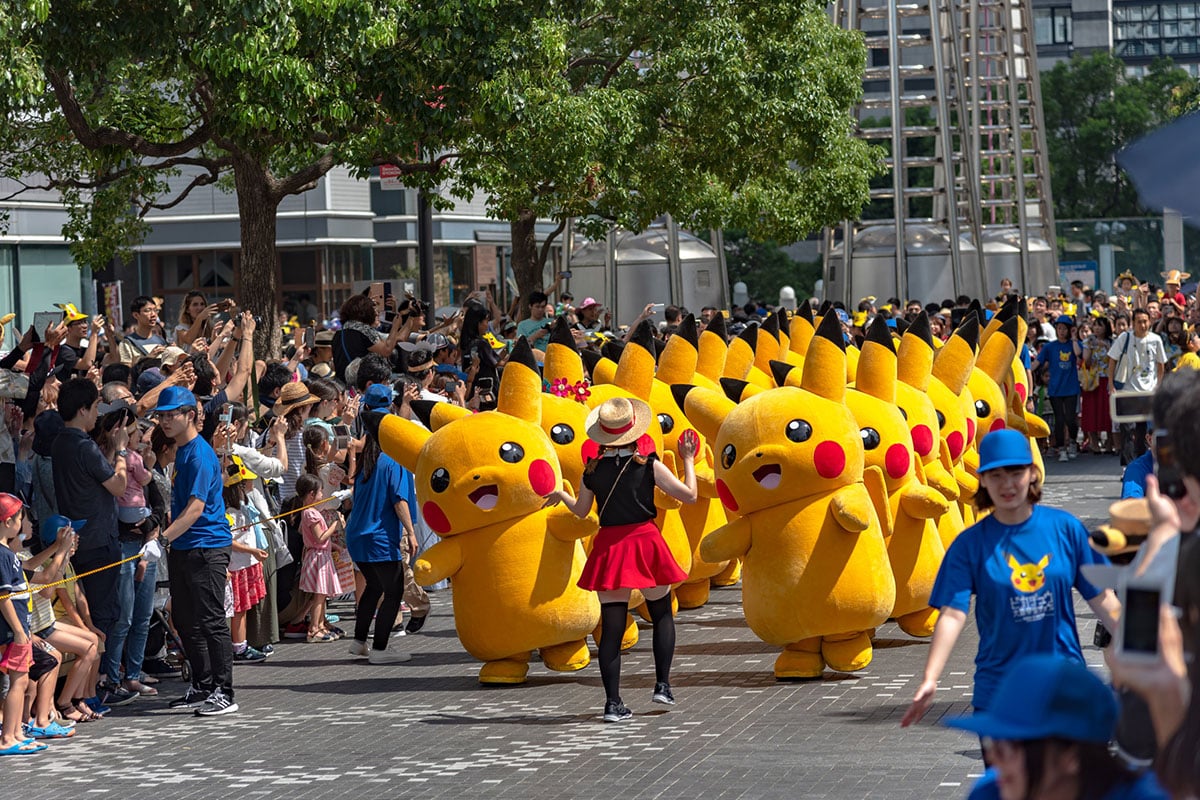 Some of the franchise's biggest hits have even been re-released. More recently, we're talking about the Sparkling Diamond and Sparkling Pearl version, released in 2021. This is exactly the same story as the 2006 Diamond and Pearl version. The concept has even been retained. It's a little return to the past for fans of the series. A release that has been the subject of enormous hype.
Pokémon is a veritable phenomenon of geek culture. The passion players have for the old versions remains unchanged to this day. The proof: sales continue. Among the versions that continue to be talked about are:
Pokémon Blue and Red: 31.38 million copies sold
Pokémon Gold and Silver: 23.1 million copies
Pokémon Diamond and Pearl: 17.67 million copies
Pokémon X and Y: 16.49 million copies
Pokémon Ruby and Sapphire: 16.22 million copies
Pokémon White and Black: 15.64 million copies
Pokémon Yellow: 14.64 million copies
Pokémon Ruby Omega and Sapphire Alpha: 14.34 million copies
The most recent versions are not to be outdone. The Sword and Shield version, released in 2019, sold 20.35 million copies.
Pokémon: figures that don't lie
Even after 26 years of existence, the Pokémon craze continues. To see this, you need only look at fans' enthusiasm for Pokémon cards. Since their creation, over 30 billion Pokémon cards have been sold worldwide. An exorbitant figure that continues to grow. And yet, some rare, limited-edition pearls are worth their weight in gold. On online auctions, you can find cards worth up to 12,000 euros. A sum that many collectors are prepared to pay.
This phenomenon has intensified even further in the run-up to the game 's 25th anniversary in 2021. During the year, new collectors' and rare cards were announced, boosting sales on various websites. Toy industry experts are stunned. According to them, the Pokémon brand is the best-selling brand in France in 2021.
The year before, in 2020, the franchise earns up to $5.1 billion in Pokémon card sales alone. Today, there are 25,000 of them. As for the game itself, 368 million copies have been sold worldwide. A craze that's not about to end, as the brand continues to make a name for itself with the release of new versions and new types of Pokémon.
New releases almost every year
To keep the hype going, the Pokémon franchise spares no expense. Between 1996 and 2000, for example, the brand released 7 games in the space of 4 years. These were:
Pokémon Red
Pokémon Blue
Pokémon Green
Pokémon Yellow
Pokémon Silver
Pokémon Gold
Pokémon Crystal
From 2000 onwards, the frenzy continued unabated, with 7 versions released until 2005:
Pokémon Ruby
Pokémon Sapphire
Pokémon Emerald
Pokémon Colosseum
Pokémon Red Fire
Pokémon Leaf Green
Pokémon XD: Breath of Darkness
From 2006 to 2010, there are 5 versions:
Pokémon Diamond
Pokémon Pearl
Pokémon Platinum
Pokémon Silver SoulSilver
Pokémon HeartGold
From 2011 to 2015, there are 8 releases:
Pokémon White Version
Pokémon Black Version
Pokémon Black Version 2
Pokémon White Version 2
Pokémon X
Pokémon Y
Pokémon Ruby Omega
Pokémon Sapphire Alpha
Between 2016 and 2021:
Pokémon Sun
Pokémon Moon
Pokémon Ultra-Sun
Pokémon Ultra-Moon
Pokémon Go
Let's Go Pikachu
Let's Go Evoli
Pokémon Sword
Pokémon Shield
Pokémon Sparkling Diamond
Pokémon Sparkling Pearl
Each series offers new breeds and species of Pokémon to discover and catch, offering different possibilities for team combinations and gameplay experiences. It's even possible to trade with other players. A good idea if you want to fill up your pokédex completely.
Open world: the hype of the moment
The concept of open-world gaming is nothing new in itself. In fact, it was pioneered in the 1980s with the game Elite. Zelda, though the most popular, was not the very first of its kind.
Over the years, this type of game has become increasingly popular. For inveterate gamers, it's a chance to never leave their favorite universe. Yes, in an open world, the quests are almost endless. There's always something to do.
The Pokémon franchise is well aware of the current craze. That's why it's releasing a new game: Pokémon Legend: Arceus, set in a semi-open world. Its worldwide release is scheduled for January 28, 2022, and many are eagerly awaiting it. In the Pokémonuniverse, the concept is fresh and promises new perspectives. However, some fans still have their reservations and are waiting to see for themselves. In any case, the hype is strong among children and adults alike.
Why do kids love Pokémon?
Pokémon is a game that, let's face it, is no longer very young. And yet, in its 26 years of existence, its popularity has never wavered. Why is this? The structure of the game remains the same: a younghero goes on an adventure, catches Pokémons and sets out to conquer the league. On the face of it, the concept is simple and the game is easy to play. Kids are masters of their own destiny, and this idea appeals to them.
What's more, with each new release, there are new species to discover and new life lessons to learn. Pokémon isn't just a role-playing game. It conveys a real message that helps our children build character and grow up well.
What's more, these little pocket monsters look cute and adorable. Little ones enjoy collecting cards and finding their favorite Pokémon in their game. They even go so far as to sell their possessions to expand their collection and play better with their friends.
For children, the Pokémonuniverse is a dream that many share. So when you love Pokémon, it's easier to make friends because you share the same interests.
Our children's favorite goodies
Goodies and merchandising revolving around the Pokémonuniverse are plentiful. Without a doubt, the best-selling are Pokémon cards. Millions of them have been sold worldwide. Kids love collecting them, showing them off to their friends and trying to win new ones during a game.
Kids have also developed a hype for Pokémon figurines. They're collectible too, and on the market you can find them in all sizes and species. Some even come with a pokéball for storage.
If you're looking to please your little ones, buying these two types of products for your children can be risky. They might already have the one you're giving them. To avoid this situation, why not opt for another derivative, such as a backpack? There are several types of Pokémon backpack on the market. To get into your little one's good graces, find out about his or her favorite Pokémon and look for a matching model. Generally speaking, all children have a hype for Pikachu. He's almost the mascot of the game and the animated series.
Other Pokémon accessories may also be appreciated by your children:
A nightlight
A watch
A plush toy
A decorative object
Etc.
So, are our kids still into the Pokémon hype?
YES! Our kids are still into Pokémon. Just look at their enthusiasm for collecting Pokémon cards. And if your little one talks about Pokémon every day, he's bound to be a fan. How can you tell if your son or daughter loves Pokémon?
He or she doesn't miss a single broadcast of the series every day. He or she asks you to buy merchandise, or saves up to buy it. His or her favorite Pokémon is in the top 10. He or she starts drawing and creating his or her own Pokémon designs. He or she has played every version of Pokémon, or at least the most recent ones.
How to please your Pokémaniac? Nothing could be simpler: offer him or her different kinds of Pokémon goodies that he or she can use during the day, such as a luminous pokéball, a backpack, a pencil case, a plush toy or figurines.
However, before settling on a product, find out what type of Pokémon your child prefers. Try to have a precise name so you can give him a nice surprise. You could ask,"Which Pokémon are you?" This way, you'll avoid fumbling around in this universe that can be way over your head.
What about you? Is your little one a Pokémon fan? What signs did you discover? What are his favorite Pokémons?